I hope the holidays were as kind to you as they were to me.  I won't say they were easy, necessarily, because there were definitely many melt-downs for me as I remembered and missed my Mom.  But those moments were only moments, and on the whole I had a GREAT holiday season, mostly thanks to David's awesome family. Man do I love those people. All of 'em, right down to the great-grannies.  They're fun, they're loving, they accept and even seem to like me, and they ADORE my kiddo.
Lauren had a fabulous first Christmas, thank you for asking.  She has more toys than we have space now.  What a blessing of a "problem" to have!  She had a great time rocking out to all the singing Christmas decorations, and she kept her cousins entertained and harassed getting into every little thing they left sitting out.  Lauren and her cousins are the cutest things going, by the way.  Don't believe me?  I have proof!
I trust you are convinced!
I did do a lot of cooking and baking over the holidays, but I did not do a lot of photographing.  Sorry, guys!  How about if I post two recipes today to make up for it?  Yes?  OK!
Christmas Eve Mice
Ingredients:
-1 package Oreo Cookies, twisted apart, or 2 packages white chocolate covered oreos, whole (I have not made them with the white chocolate oreos.  Yet.  Next year, my pretties…next year!)
-2 jars Maraschino Cherries, With Stems, drained, rinsed and patted dry

–40 Hershey's Kisses, unwrapped

–Approximately 1 cup sliced almonds
–1 cup semisweet chocolate chips
–2 tsp shortening
–1 tube red icing gel and 1 tube green icing gel
Directions:
-Set up an assembly line, however works for you.  I did mine like so:
-Put your chocolate chips and the shortening in a small bowl and microwave in 30 second intervals until completely melted.  Stir until smooth.
-Grab a cherry by the stem and completely dunk the cherry in the chocolate (not the stem!)
-Place cherry on it's side on Oreo Cookie.  Place it over to one side more, so you will have room to pipe your decorations next to the mouse.  The cherry makes up the mouse body and the stem is it's tail.
-Quickly press the flat side of a Hershey kiss to the side of the cherry opposite the stem.  The kiss makes up the mouse head.
-Place two almond slices between the kiss and the cherry – these make up the mouse ears.
-Repeat until you have 40 mice completed.  You will probably need to reheat your chocolate once or twice during this process – that's OK.
-Use your red and green gel to pipe holly decorations next to your mouse.  You can also use the red gel to make eyes for your mouse, or use black gel if you have it.  Black would be much cuter, but I always use red because I'm too cheap to buy 3 tubes of icing.
-Serve at your next holiday party and eat up the ooh's and ahh's and "how cute!"s.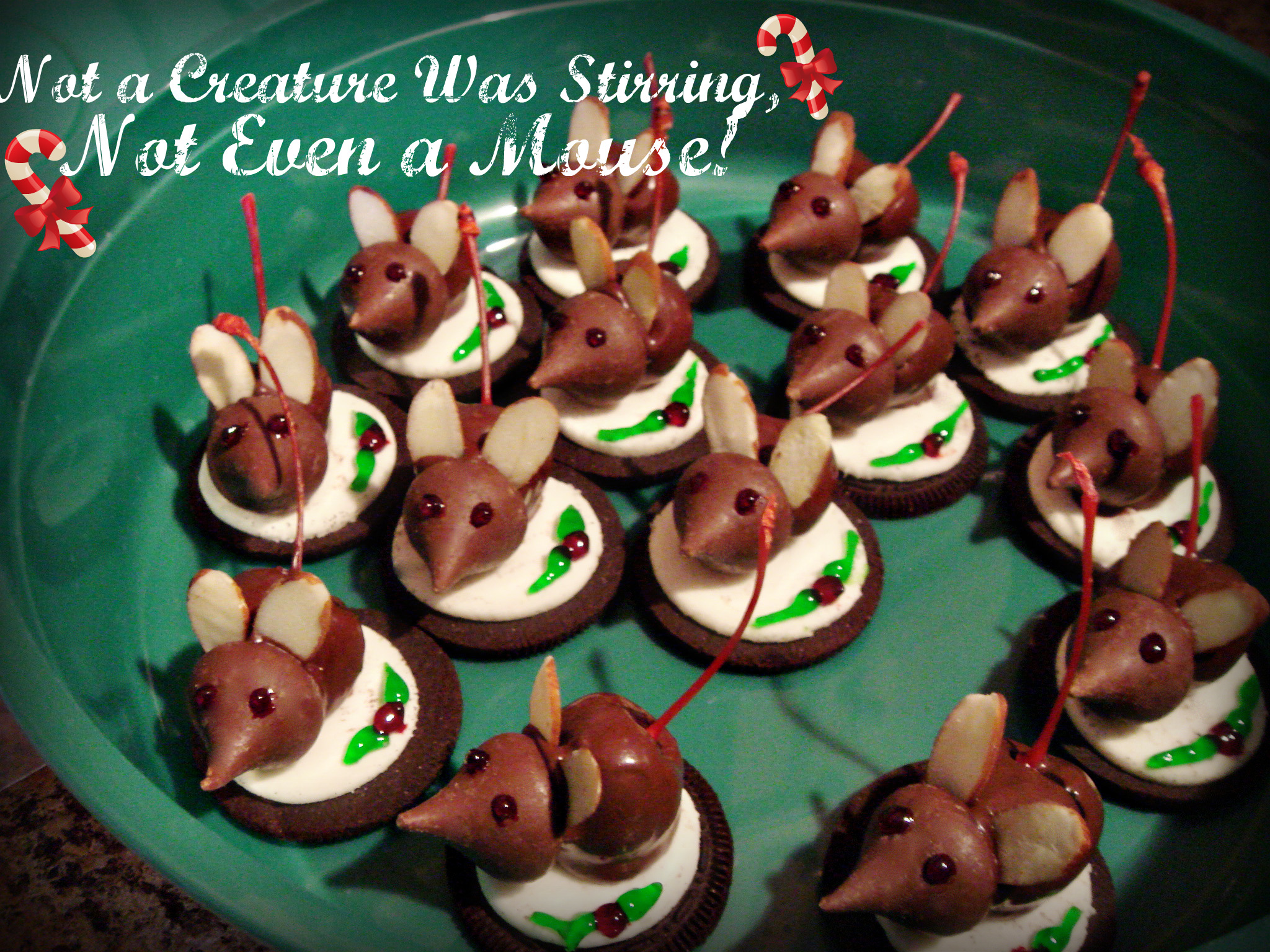 OK, and recipe #2 I discovered and made today.  How's that for fresh blogging, huh??  I took this recipe from Katie at You Are What You Eat…Or Reheat – how cute is that title??  She's funny and makes good food.  And she loves animals and The Pioneer Woman.  Which reminds me – I need to show you one of my favorite Christmas presents this year!  Check this puppy out:
David was totally awesome to make that happen.  I think he loves me or something!
OK, so here's another recipe that you really need to try ASAP:
Chocolate Chip Brownie Pillows
Ingredients:
-1 (20 oz) pkg double chocolate brownie mix
-1 stick unsalted butter (I used salted, and I think my cookies turned out just fine.  David agrees!)

-1/2 cup shortening
-1 1/2 cups firmly packed brown sugar (Katie did not specify dark or light.  I used light, because that's what I had.)

-2 large eggs
-1 egg yolk
-1 tbsp vanilla extract
-2 1/2 cups unbleached all purpose flour (I used bleached.  It's what I had.  Again, David and I agree – these turned out fabulously!)

-2 tsp baking powder
-1/2 tsp baking soda
-3/4 tsp salt
-3 cups semisweet chocolate chips
Instructions:
-Prepare brownies according to package directions in an 8″ square pan.  Cool completely.
-Then cut into 3 dozen or so tiny squares.
-While the brownies are baking, beat butter and shortening at medium speed until creamy.
-Add brown sugar, beating until smooth.
-Add eggs, yolk, and vanilla, beating until blended.
-Combine flour and next three ingredients; gradually add to butter mixture, beating until blended after each addition.
-Stir in chocolate chips, cover, and chill dough 1 hour.
-Preheat oven to 350 degrees. (Unless you're like me and just left your oven on between making the brownies and chilling the cookie dough.  Oops.)

-For each cookie, scoop 1/2 cup dough onto wax paper lined cookie sheet; place cookies 3 in. apart. Using fingers make an indention in mound of dough; place 1 brownie square in center. Press dough around brownie to form a ball. Repeat. (OK I totally did not do mine like this.  I scooped out a heaping tablespoon, smooshed it down, smashed in a piece of brownie, then added another stingy tablespoon on top.  It was just easier that way, and made much smaller and many more cookies.)

-Chill 15 minutes.
-Bake 18-20 minutes or until lightly browned and cookies look set.
-Cool 2 minutes.
-Remove to wire rack and let cool completely.
-Try not to eat all of these bad boys in one sitting.  Especially if you've made new year's resolutions involving diets and other such nonsense.
Here's to a glorious 2010,
Becki