What do I do when I receive a cake request that reads like the one below?
…She is a chocolate addict, so definitely a lot of chocolate. I was thinking chocolate mousse and fresh strawberries, but am open to suggestions on what you think would be good. Also, do you think it would be possible to do any kind of decorative work? Something along the lines of animals (maybe dogs or horses) maybe?  She is also an artist if that helps. I am really open to ideas, just throwing out some stuff.  Size wise, it only needs to be able to feed about 6 people….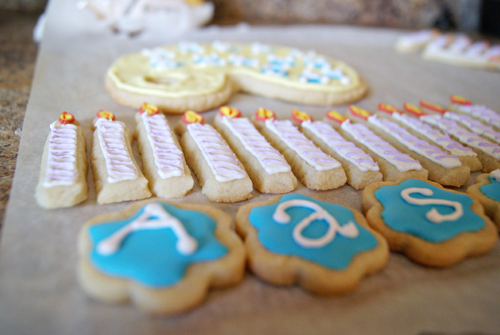 First I clarify a few points with the customer – his sister is turning 22, and we decide to leave out the strawberries.
Then I bake a dark chocolate cake ala Cafe Coco, then fill it with a not-quite-authentic chocolate mousse because I'm afraid to use raw eggs at a time when eggs are being recalled by the zillions, and I finish it up with a chocolate Italian meringue buttercream, which I'm comfortable with because I beat the meringue with 245° syrup.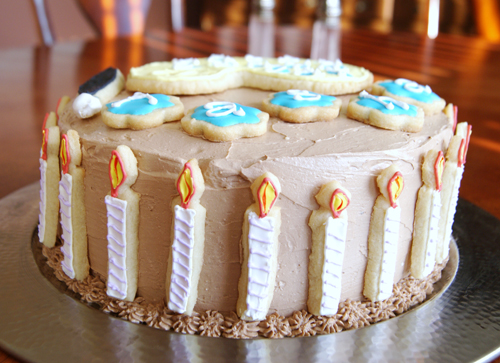 Then I bake 22 birthday candle sugar cookies, one artist's palette cookie, one paintbrush cookie, and five paint splatter cookies.  I only use one cookie cutter, and that's for the paint splatters.  The rest of the cookies are free-hand cutouts.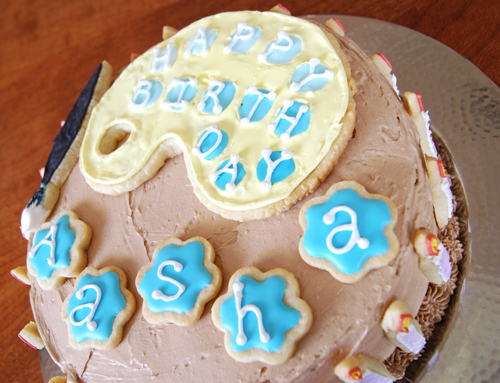 Next I whip up a big batch of royal icing, ala Bridget @Bake at 350 and I get busy decorating some cookies!  Which, in case you've been reading Bridget, or Amanda, or Paula's blogs, you might think is no big deal.  But I am here to tell you that decorating cookies takes time.  A whoooole lotta precious time.  And patience.  And skill.  So make sure you give yourself plenty of each…except the skill, which (hopefully) comes with the practice.  From start to finish, this cake took me 3 days.  But I think the end result was worth it: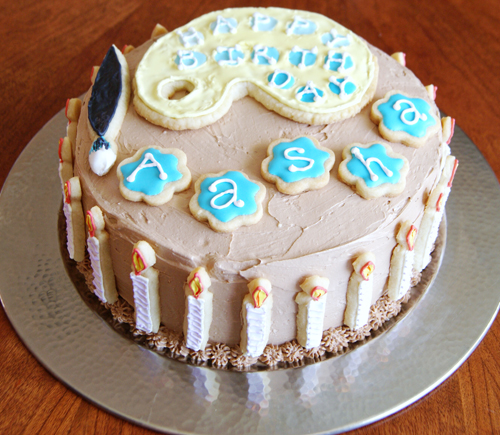 Now if you'll excuse me, I'm going to go make use of the leftover frosting and mousse workout.  And then make use of the leftovers.

Hope you have a fabulous weekend!
Becki