Yesterday, in a fit of hormones, I went on a "must have chocolatey sugary goodness!" rampage, and I am so glad that I did!
I combined a couple of recipes from Jenny at Picky Palate and spent the afternoon attempting (and mostly failing) not to eat all twenty-four of the cupcakes that I made.  I took the Caramel Buttercream Icing (are you drooling yet??  every time I read or say "caramel buttercream icing" my tastebuds smile.  best idea ever, Ms. Picky Palate!) from this recipe and the cupcake batter from this recipe to make these: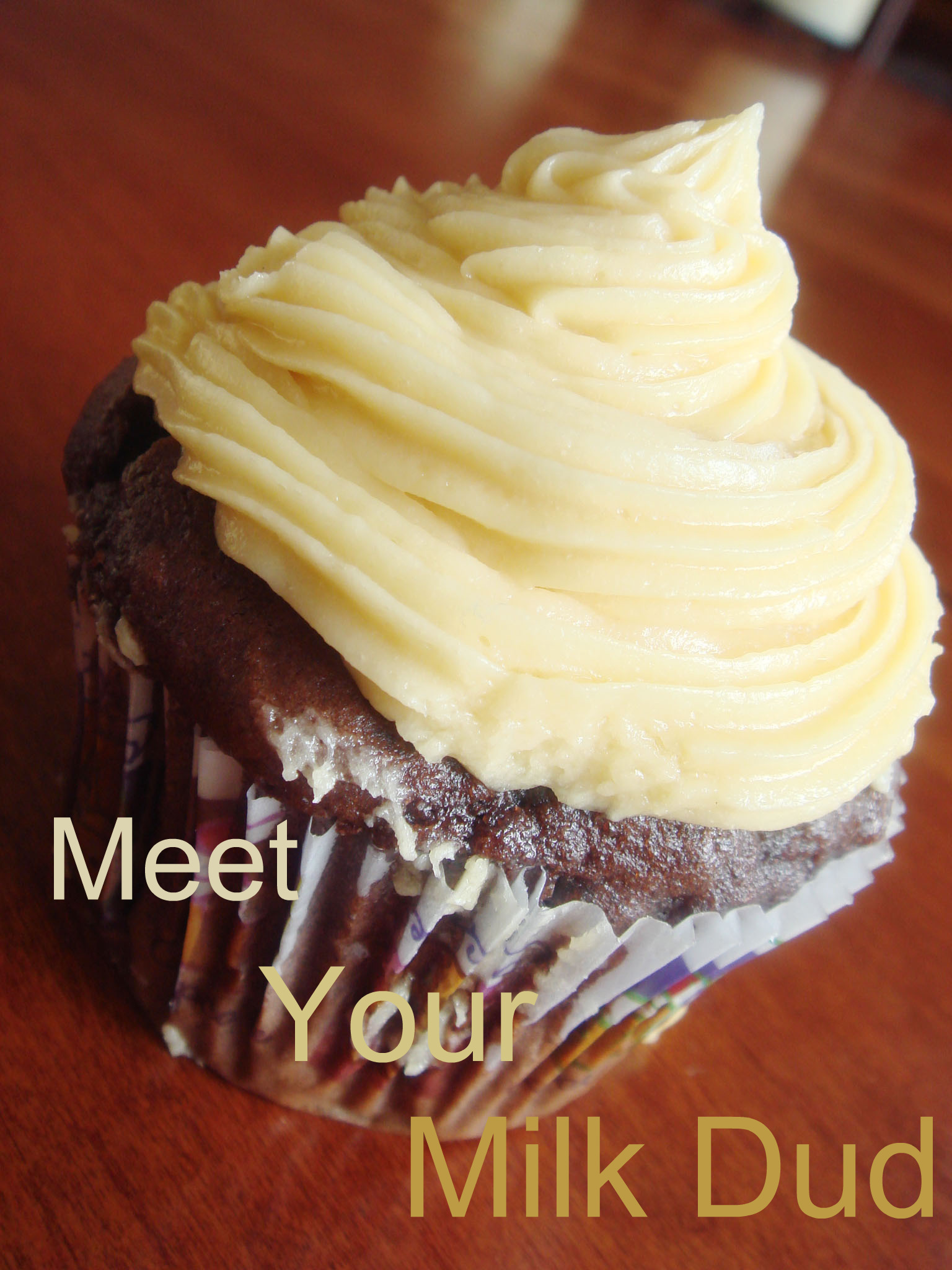 Milk Dud Cupcakes
Cupcake Ingredients:
-1 box devil's food cake mix
-4 eggs
-1/2 cup vegetable oil
-1/2 cup water
-1 small box instant chocolate pudding mix (Buying instant pudding is tricky.  I hate the packaging because it is not immediately obvious which ones are sugar-free and which ones are regular.  I spent a long time staring at them before buying 4 packages of what I thought was regular chocolate instant pudding mix.  When I pulled out a box to make these cupcakes yesterday and discovered that I had purchased 4 boxes of sugar-free, I almost had a melt-down.  I hate it when I'm "tricked" into low-fat, no-fat, sugar-free stuff!!  But as it turns out, these cupcakes are plenty sweet enough – I did not miss the additional sugar that would have come with a box of regular pudding.  Sorry for this long side note…I had to get that off my chest!)

-1/2 cup sour cream
-1 cup milk chocolate chips (I used semi-sweet for mine, and they're fine.  But the semi-sweet kind of overpowers the caramel – I think milk-chocolate chips would be a much better choice for these cupcakes.)

-1 movie-theatre sized box Milk Duds
Caramel Buttercream Icing Ingredients:
-20 soft caramels
-1/4 cup milk
-2 egg yolks

-3 1/4 cups powdered sugar
-2 sticks softened butter
Directions:
-Preheat oven to 350º
-Using a stand or electric mixer, combine all cake ingredients except chocolate chips.  Mix on medium for 2 minutes or until well combined and somewhat thick.  Add chocolate chips and stir until combined.
-Scoop into 25 paper lined muffin cups. Don't be like me and waste your cute white cupcake liners on these chocolate cupcakes.  White cupcake liners are made for light-colored batters.  Duh.  But aren't these adorable?
-Press 1 Milk Dud into the center of each cupcake.
-Bake for 22-25 minutes or until they pass the toothpick-test.  Let 'em cool completely before frosting. (OK and here I have to say that straight out of the oven, with no icing or anything, these guys are SO GOOD.  I ate a whole one as soon as they came out of the oven, and I could have easily eaten a couple more!  The chocolate chips and the Milk Dud are all gooey and melty and mmmmmmm…)
Caramel Buttercream Icing Directions:
-Unwrap caramels and place them and the milk into a medium saucepan over medium low heat until melted and smooth, stirring constantly.  Remove from heat and cool for 10 minutes.
-In a seperate bowl, whisk together the egg yolks and 1/4 cup powdered sugar.
-Using a stand or electric mixer, slowly beat together the melted caramel and the egg yolk mixture until well combined.  Cover the bowl and refrigerate until well chilled – at least an hour or so.
-Once the caramel mixture is chilled, add the softened butter and beat until whipped.  Slowly beat in the remaining 3 cups powdered sugar, until everything is light and fluffy.
-Frost your cupcakes and ENJOY!
Oh, and there won't be enough frosting to make them all swirly and pretty like this: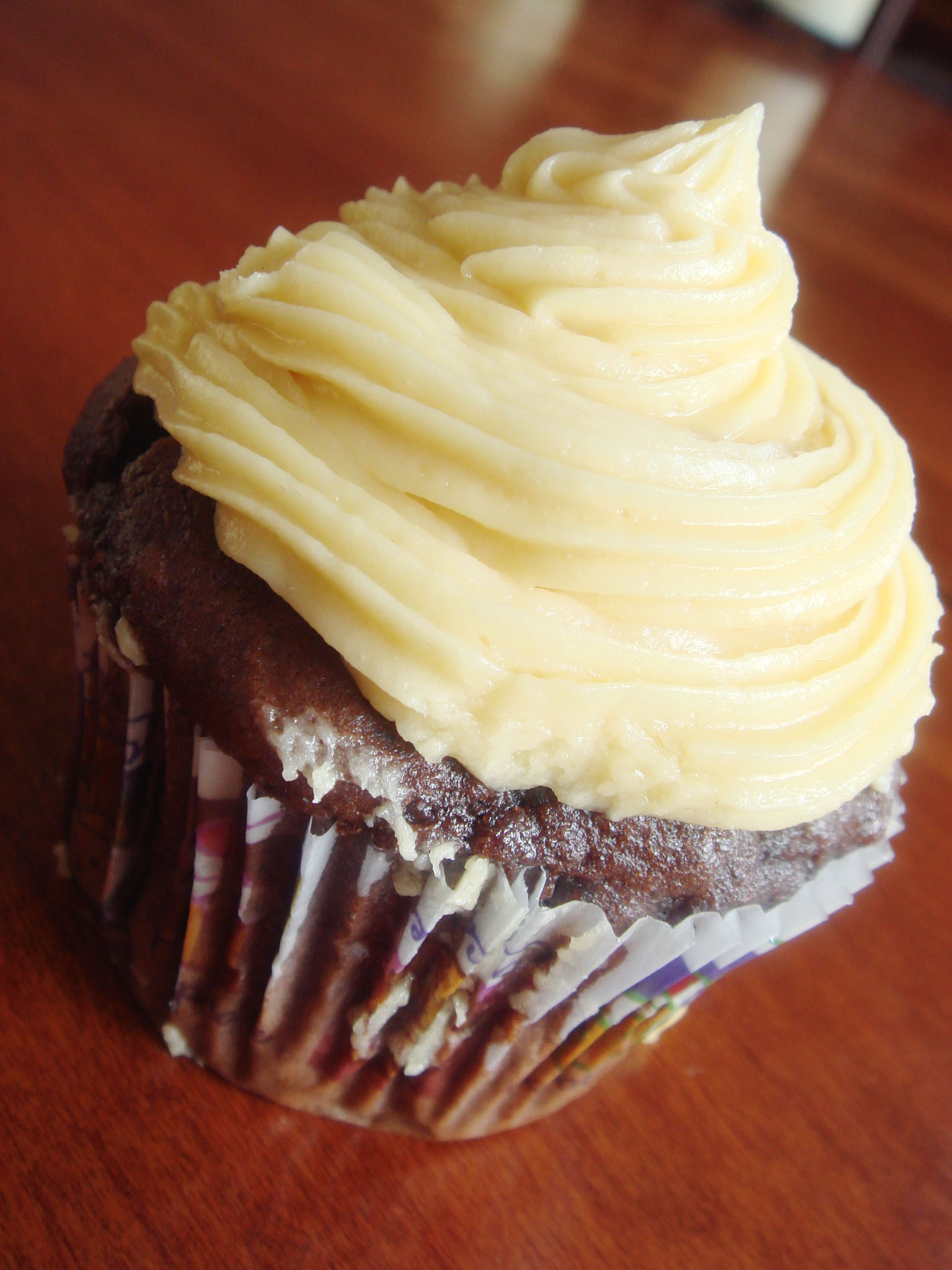 So you'll just have to slap it on like this: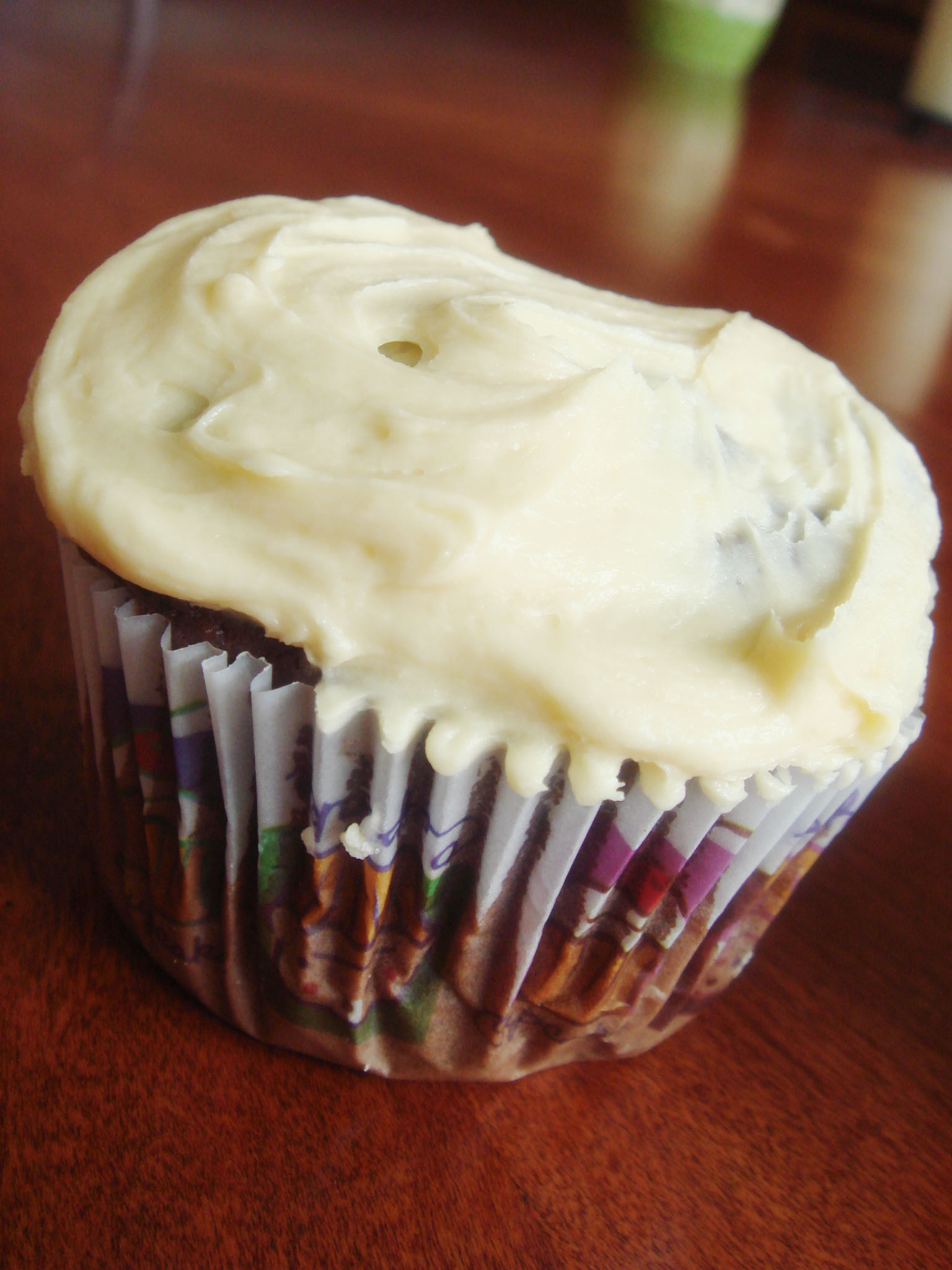 But that's OK because you're still going to want to shovel it into your mouth like this:
Have a great weekend!
Becki