First, I have to get David to show me how to change the font style and size on this thing.  I know it can be done, I just don't know how to do it.  Something about changing the CSS for the design template…?  I keep writing my posts in BOLD because I can't stand the teeny tiny termite size that this thing is set up to do.  Who wants to read miles and miles of my blathering in miniature letters?  Not me or you, I bet!
In other news, you will be pleased to know that I had an altogether lovely weekend.  Let's work our recap backwards, shall we?  We shall!
1) Lauren slept in til 8 this morning.  I could fill the next 10 pages with exclamation points, but I will resist the urge.  Let's just leave it like this:  It has been a long time since I've risen later than 6:30 a.m.
2) I had the best run of my running history last night.  I knew it was going to be a long run so I took Duke with me because I was going to push it right up til nightfall.  This is Duke: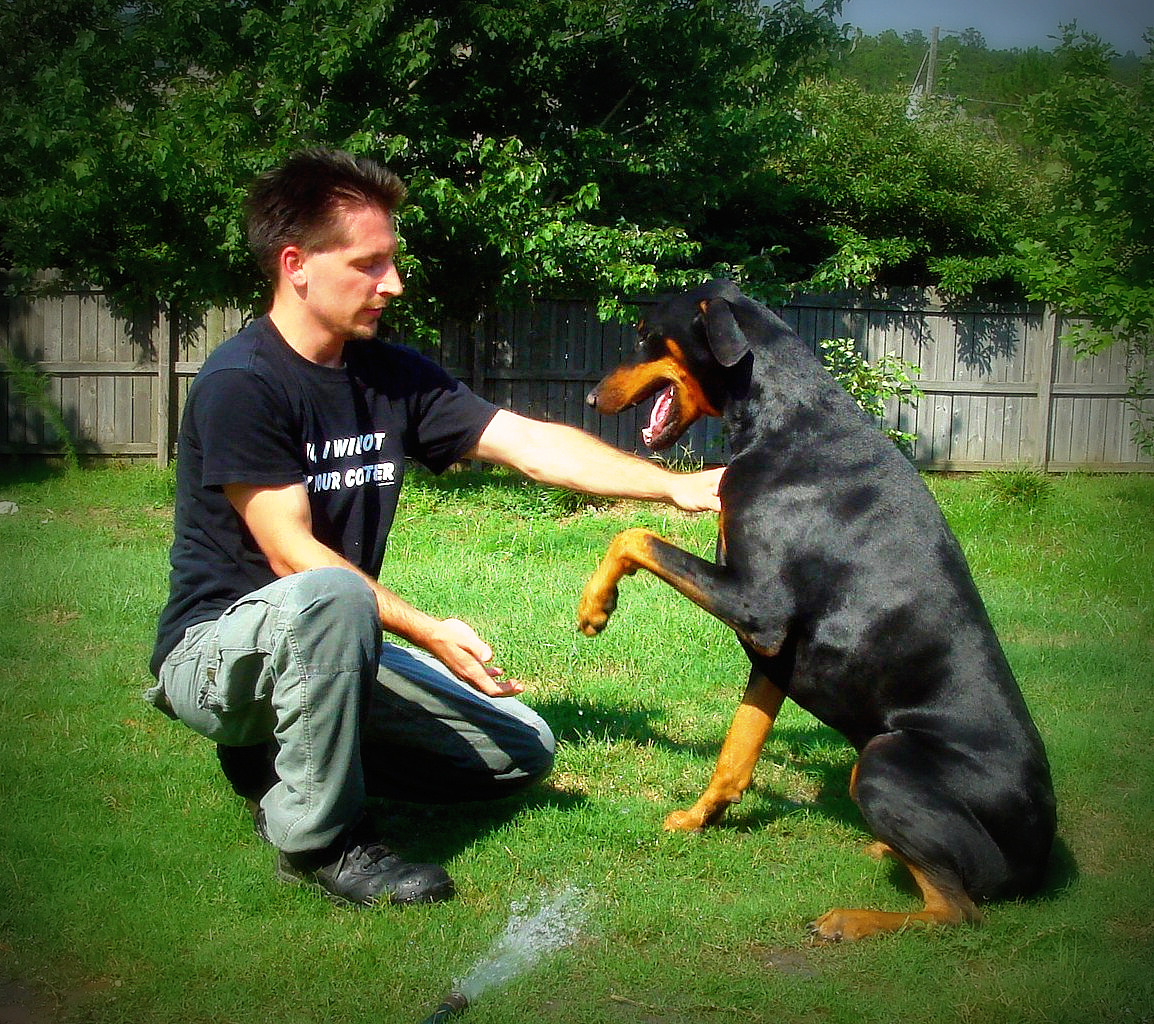 As you can see, he is roughly the size of a pony, which makes him a good deterrant.  (Last night his dirty wet dog stench just added to the "don't come close" effect.  And yes, it literally rubbed off on me, too.  Yum!)  After the first quarter mile during which I must constantly fight to remind him what "heel" means, Duke is a good running buddy.
Last night was perfect – I had taken an hour-long nap, and the impending tropical storm cooled things off quite a bit and brought a lovely breeze that I was able to run into most of the time.  Running into the wind is delicious, and every time I get to do it, I wonder about that old Scottish (or is it Irish?) saying about "may the wind always be at your back."  I want the wind at my front, thank you very much.  At least while I'm beet-faced and running!
Back from that rabbit trail, lately I have been feeling stronger each time I go out for a run, and I can't explain to you what an encouragement that is.  I believe I started running again when Lauren was  about 4 months old…so it's taken roughly 3 months for me to start feeling good when I go out.  It is so worth the time it has taken to get here!  There is nothing like the feel of a good run, where your body is pumping energy, your mind is floating and all is right in that moment.  It's empowering, cleansing, revitalizing, and addicting.

One thing that has been helping me lately is that I've stopped timing myself.  I've decided that at this point in my training, I don't need to try to push the clock.  Intead, I need to focus on getting my body to accept the distance.  We can work on speed later.
I was hoping to get in 5 miles last night, but I ended up with 4.  Night had more than fallen when I got back to our side of the neighborhood and I was very tempted to keep going because I felt so good, but I knew David would already be edgy, so I didn't push it.  When I got home he told me that I stunk (and he wasn't kidding…thanks, Duke!) and that from now on,  I have to be back home before the streetlights come on.  Then his Mom called and said I shouldn't be running so late.  Ahhh the joys of being almost 30 going on 12.  Ha.  You think I'm kidding, but I'm not!

3)  After church, we ate at Dave's parent's house.  Mmmm homemade soup.
4)  I worked in the nursery this Sunday, which means that I got to play with Lauren and Abigail.  I just love seeing Lauren with other babies.  Abigail is a 10-month-old sweetheart and doesn't mind sharing with Lauren.  Lauren is a punk and grabs anything that Abby has.  It's fun to watch when they start noticing eachother instead of the toys…then they want to explore each other's faces.  Precarious and precious!
5)  Saturday night we went to Adam n Kristie's and enjoyed some fresh catfish, my brownie-bottom peanut butter cheesecake and some Spades.  David and I won the card game, of course!
6)  Friday night we left Lauren with David's parents and went to church to watch one of our interns being put through his paces to determine if the church should ordain him.  It was very interesting, he passed and was ordained, AND that was the longest we've been away from Lauren to date.  A little over 3 hours, and Dave's parents said Lauren didn't cry once.  Maybe one of these days soon David and I can go on an actual date.

Although I have to say that while I am always thinking that I would like a little break from "baby-land," as soon as I leave Lauren anywhere I start to get nervous and I miss her and I find myself rocking as though she's still in my arms.  Is this normal or am I just especially neurotic?

So like I said, it was a very good weekend.
Weathering the (tropical) storm,
Becki