Happy Easter, everybody!
What's that?  I'm a little late on the Easter wishes?  Well, I still hope you had a great holiday, and that you continue to have a lovely spring.  With the weather we've been having here, it's hard not to fall in love with life again.  Hope blooms anew with the flowers and green things!  Weren't seasons a great idea?!



The sun was warm but the wind was chill.
 You know how it is with an April day
 When the sun is out and the wind is still,
 You're one month on in the middle of May.
 But if you so much as dare to speak,
 A cloud comes over the sunlit arch,
 A wind comes off a frozen peak,
 And you're two months back in the middle of March.
 -Robert Frost




So let me tell you about my Easter celebrations and baking.  If you're into cute food, you will love the baking!
Dave's Mom courageously volunteered to have Easter dinner (lunch) at her house – and invited my Dad, my brother and his family to come over, too.   That's a lot of cooking, cleaning, and hosting that she signed up for!  Have I ever mentioned how awesome my Mother-In-Law is?? Super awesome, that's how!
Knowing that I have this little baking obsession, she went ahead and asked me to handle the dessert.  As if she could have stopped me from bringing one!
Thanks to Bakerella, I am totally consumed with the idea of home-made "pops."  They're just so stinking cute, crafty, and different!  I also happen to LOVE the white fudge Oreos that come out for a limited time each winter, so when I found this recipe by Jenny at Picky Palate, my little brain wheels started turning!
People gag-gifted Oreos to David over Christmas because if you know my hubby, you know that Oreos are one of the only sweets that he really enjoys.  And since he's not a big sweet eater, even of Oreos, and because I would rather make my own treats than dig into the Oreos, we have a ridiculously huge stash of them in our Pantry.  Everything from bite-sized to traditional to double stuff!
Because everything is cuter in miniature, and also because I had found a really cute, springy-themed plastic cup that I wanted to use for my pops at Wal-Mart, I knew I wanted to make the pops out of the miniature Oreos, and so I did the following:
Miniature Oreos do not come with enough filling to accomodate a lollipop stick on their own, so I opened up a few Double Stuf cookies, scraped out their guts and nuked 'em so they'd be spreadable.  Then I opened up the minis, added some extra Stuf, squished a stick  into 'em, and closed them back up, like so:
You didn't need that in color, did you?  They are black and white cookies, after all.  And I'm a little fascinated with PW's Vintage Action at the moment.  Bear with me.  Anyway, after you've got as many Oreos as you'd like on sticks, let them set for about half an hour or so – that way your melted Stuf will unmelt.  Got that?
Then you can either be like Jenny, and use white melting chips to make some pretty colors for your pops, or be lazy like me and use already colored melting chips to dunk your pops.  Either way, you can't go wrong.  Be bold, be creative, have fun!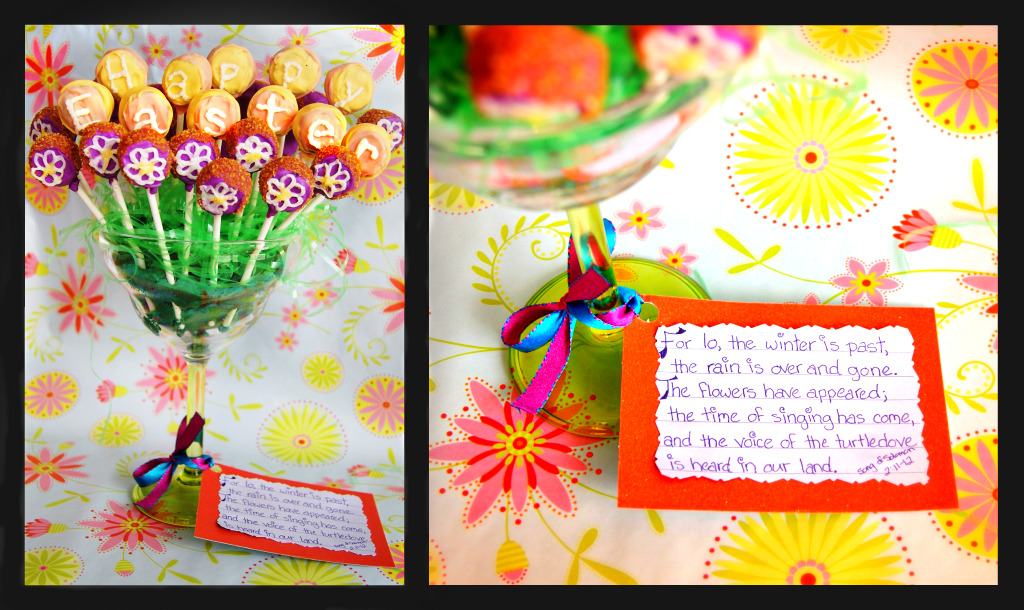 Like I said, I love pops.  But we needed to have something a little more substantial to satisfy our (my) sweet teeth, so I also made some cupcakes.  And not just ANY cupcakes, but ones inspired by the fabulous Bakerella, of course!  Not only are these guys completely adorable, but I also loved the idea that everybody – adults (particularly ME) included – would get their own Easter basket.  Because let's be honest…I'm not the only one who misses waking up to a basket full of goodies on Easter morning, am I?
I'm not normally a huge fan of carrot cake, but I had used this recipe a few months ago to make my Dad's birthday cake and it was fabulous.  So, because it's Easter, and there's the whole bunny thing going on, and bunnies love carrots, I made carrot cupcakes ala my favorite PW.
Sadly, this time around the carrot cake recipe and I did not get along.  I don't know what the problem was, but the first batch I made, I overfilled the cupcake liners, which made a huge mess in my oven and almost caused me to give up on the carrot cake from scratch idea altogether.  However, I tried again because my sweet David volunteered (OK, I asked and he acquiesced) to go buy more sugar AND grate the next batch of carrots.  Side note:  I.Hate.Grating.
The second batch looked beautiful, so I continued on my merry way.  Little did I know that they actually turned out rather dry – I did not taste test any until Easter dinner.  Sooo – sorry for the second-rate cupcakes, guys!  Still, I totally loved how they looked, and I will probably be making these little baskets again next year, but with a different cake recipe.  Apparently most of the guys (my husband, my brother, my father-in-law…) aren't crazy about carrot cake, either.  Works for me!
I'm not posting any recipes, since I included the links to the originals above.  And for the baskets, you can use pretty much any candy your heart desires.  Here's what I used: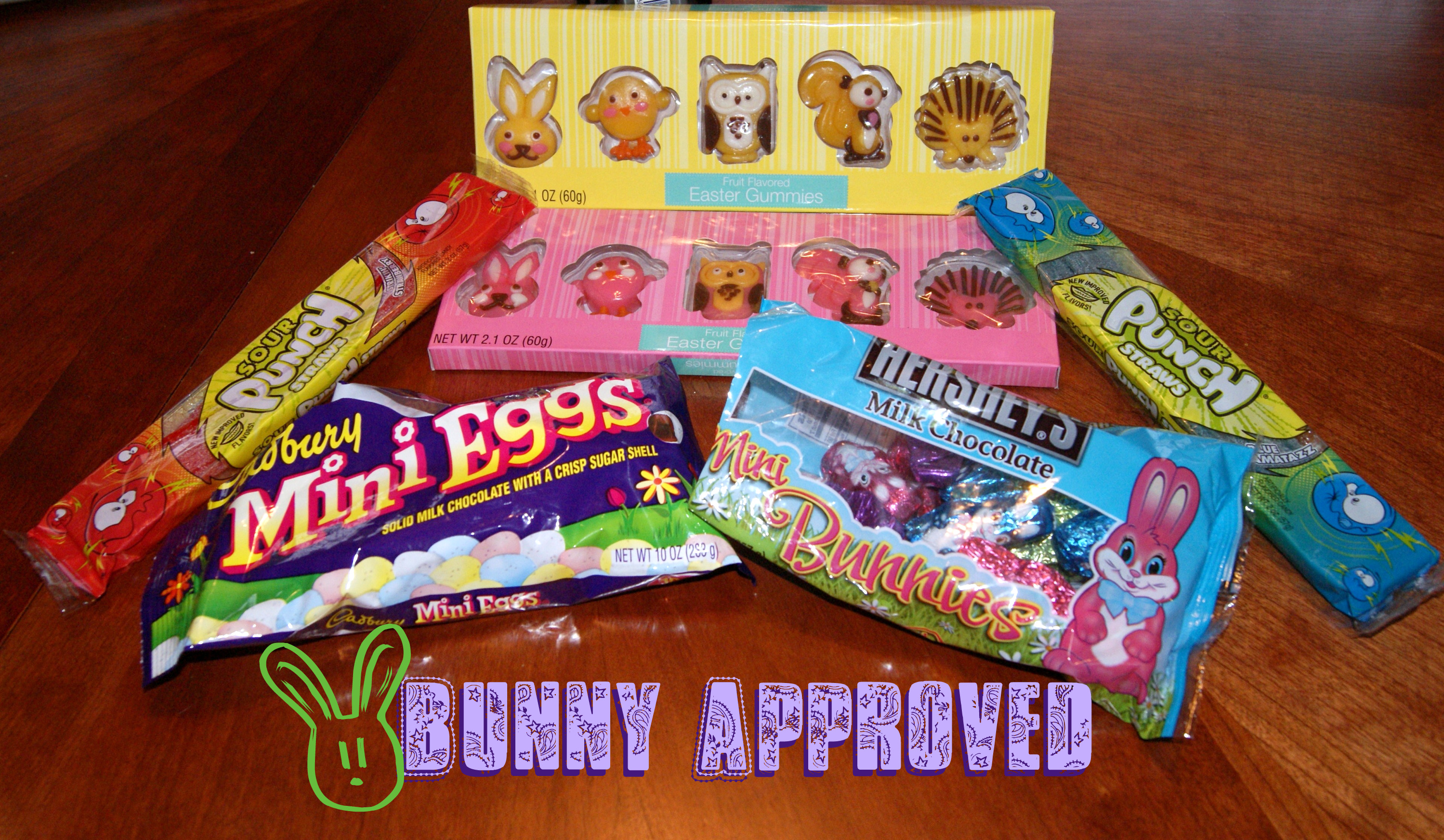 Do you see those adorable little animal jellies in the center back, there?  Oh yeah. PRECIOUS.  And of all the places, I found them at the dreaded Wal-Mart!  $1/pack! Totally awesome.
And now, the moment you have all been waiting for:
Me to finally end this post.  Ha!
Love ya,
Becki