OK, first and foremost – mad kudos to 17 and Baking and her must-be-awesome Dad for coming up with the coolest (well, coolest and most do-able) cake I've stumbled across yet!  Check out her post: A Little Taste of Independence.
Now, where to start on my own tragic tale of simultaneous success and defeat?  Let's start with the inside, since I'm still super excited that it worked: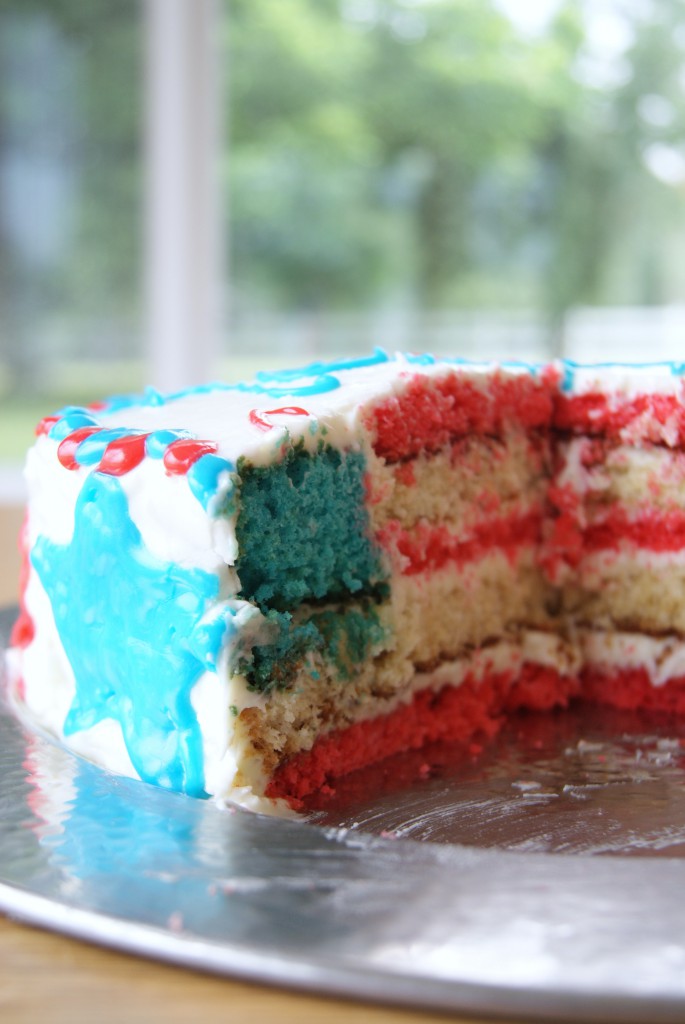 Totally awesome, right??  Yeah!!
However, I was forced to submit my cake to cakewrecks.com.
"But whyyy?"
I'll show you, but first let me tell you about the making of this cake.  Because you should totally make one, too – it's pretty easy and super impressive.  Except the part that I screwed up.  But we'll get to that.  First, take another look at how cool this cake is.  It's a flag!  Made of cake!  IN the cake!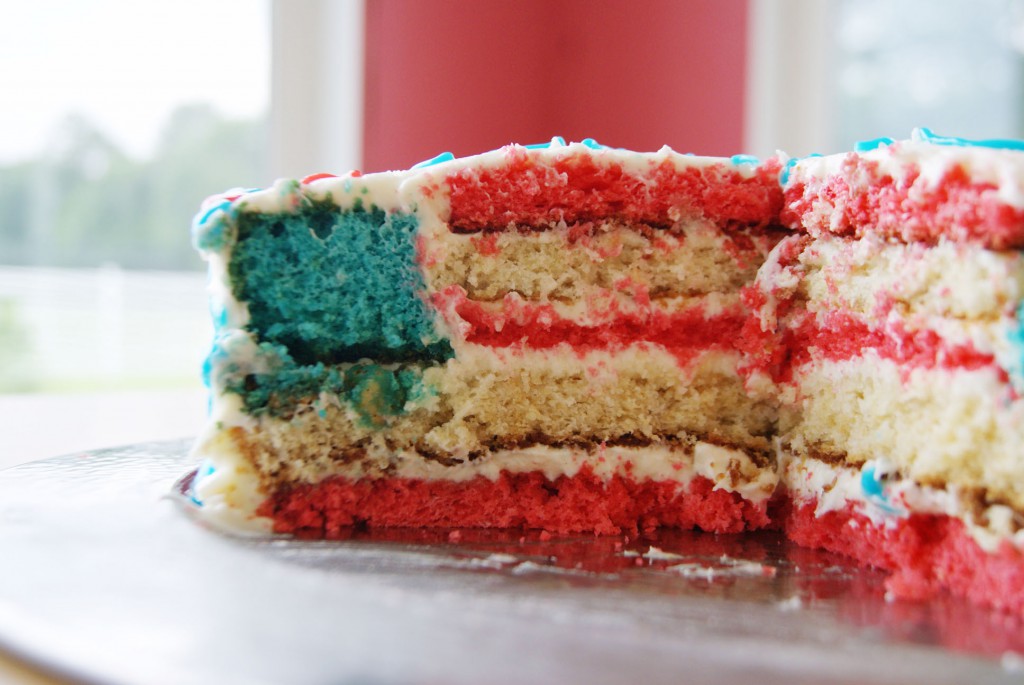 This cake is even easier if you use a box mix, but since I'm all about perfecting my "scratch" skills these days, I picked a random recipe I found online and divided it into thirds.  I divided it into thirds BEFORE mixing everything up, thereby making the process even more time-consuming, because I wanted to flavor the different sections with cola.  I've done this many times with box mixes, substituting strawberry cola for the water and it makes a really easy and yummy cake.  However, there was a lot less liquid required for this recipe I chose, so you couldn't really taste the different flavors.  Ah well.  I used food coloring, of course, to get the blue and the red colors.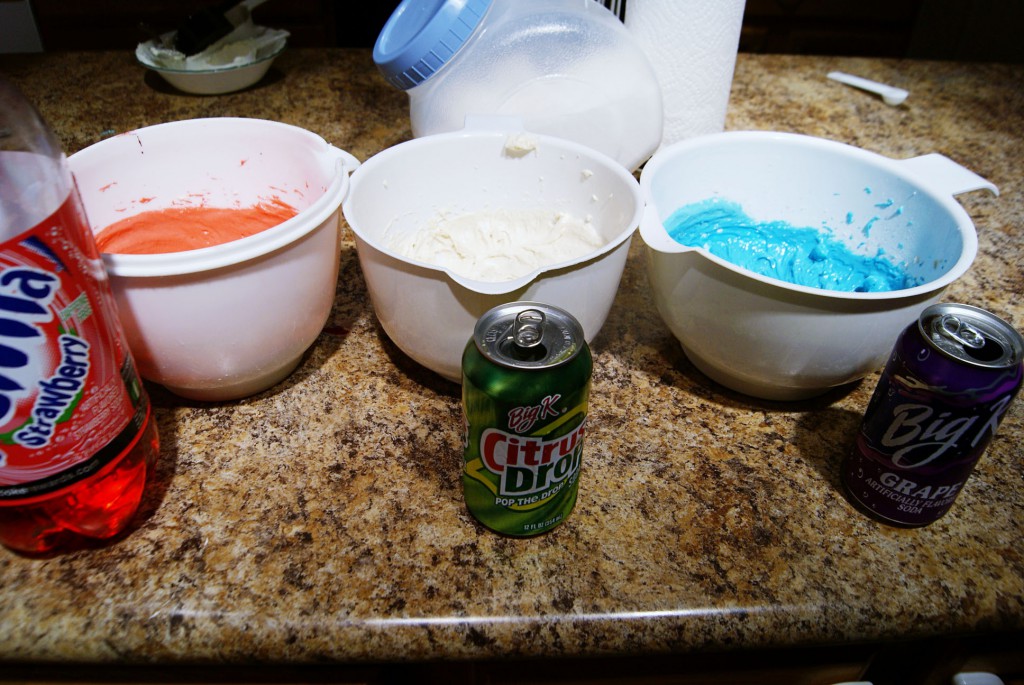 And because I know you're dying to know, this is how you get the band of blue for the flag: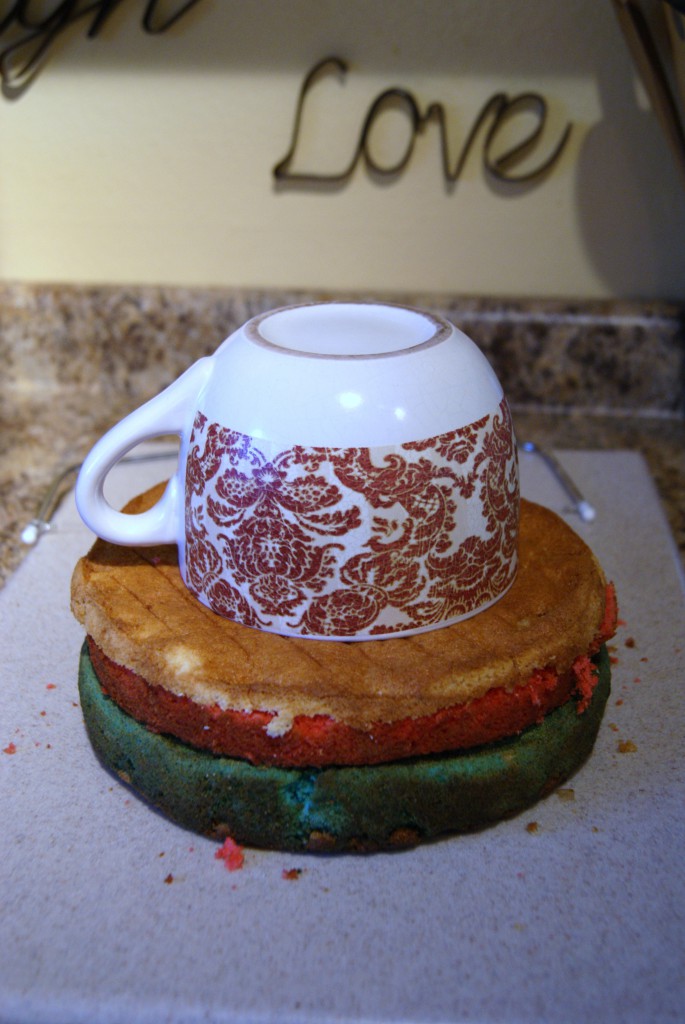 You'll find much more detailed directions on 17 and Baking's site, but basically, you stack your layers, put a round object in the middle (in this case a giant mug) and cut around it.  Use the inside circles of the red and white layers, and the outside circle of the blue.  Genius, right???
Also, Elissa's cream cheese frosting recipe is fabulous.  I just added a little touch of lemon juice to mine.  Yum-to-the-EEEE.

Now let me lead you down into pit of my shame.
Wait wait wait, first let me distract you with my stars.  Aren't they pretty?  I used a sugar cookie icing for the decorations because I ran out of butter, so buttercream wasn't an option.  Aren't I an awesome improviser??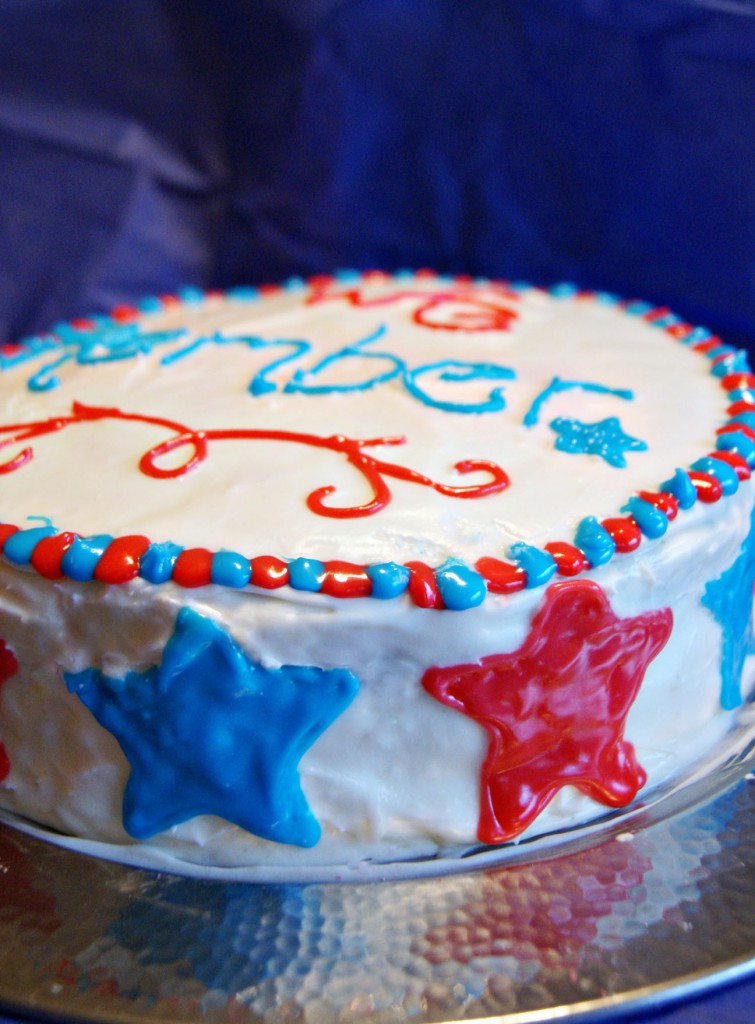 OK.  Enough procrastinating already.  Don't worry if it takes you a minute to recognize the problem.  David watched me decorate this cake, and he didn't notice – we took it over to my Dad's and served it, and NONE of us noticed.  It wasn't until the following day when I was showing the pictures to my MIL that I realized what I had done.  The horror, the shame!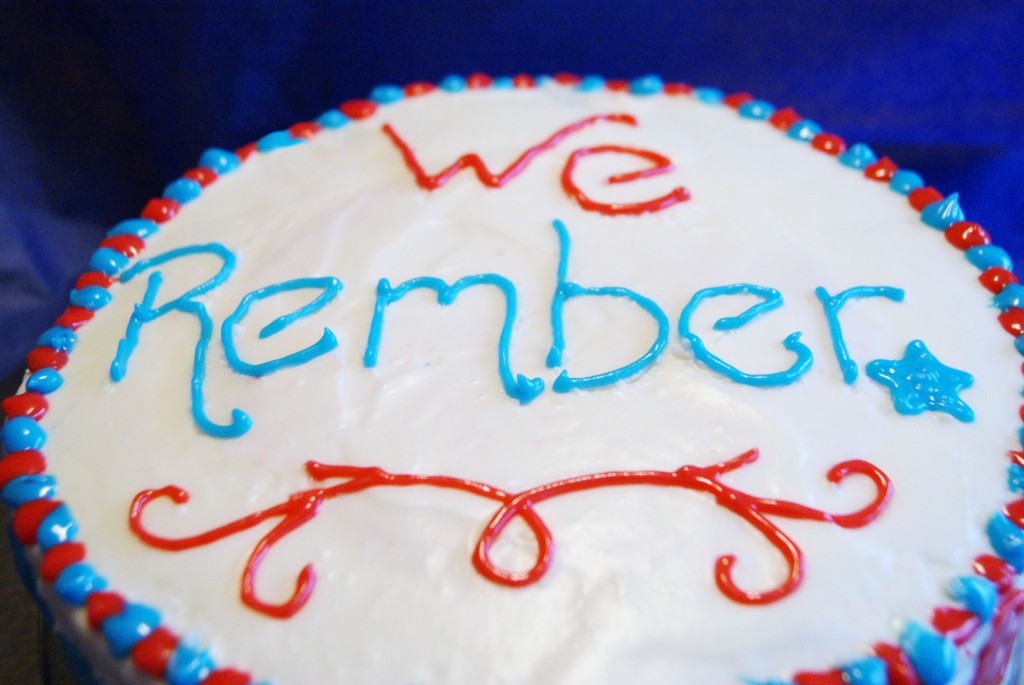 I don't know what David and my Dad's excuses are…but I am totally blaming this on my Pregnant Brain.  Did you know that developing babies steal all your brain cells?  They totally do.  No, don't Google that.  Just trust me.  I know what I'm talking about, rember? 😉
Seriously thankful for our military men and women,
Becki