I attempted another 5k this morning.  It was the Race for Lace, which I knew little to nothing about before I got to the starting line this morning.  Then I discovered that the whole thing had been organized by an individual family whose 21 month old daughter has Cystic Fibrosis.  The Dad got up there and gave the pre-race announcements and tried to tell everyone a little about his family and how thankful he was for all the support they received from the community, and his wife and little Lacey were right there next to him and the more he talked the more choked up he got….in turn, my face got all scrunched up and it took every bit of willpower I had not to bust out in the Ugly Cries.  Seriously.  My Lauren is 21 months old – the same age as Lacey – and all I could think about was my little family and suddenly I didn't want to be doing this race, I wanted to be snuggling my girls RIGHTNOW.  I've never felt so overwhelmingly maternal before, where I was CRAVING my children.  It was weird and instinctual.  It did not make for a good start to a race.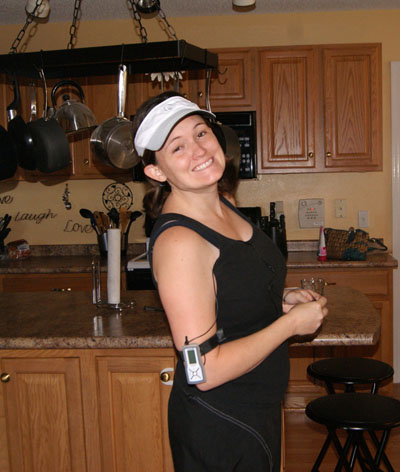 The horn was finally blown and I set off with a lump of tears in my throat and thoughts of my little family all snuggled up at home in my head.  The Race Dad and his little Lacey in her jogging stroller passed me up immediately.  So sweet!  So distracting!  And then I worked my way out of the school parking lot and onto the actual course, where I discovered that almost the entire first mile was uphill.  What the what?!  I don't know why this was such a surprise to me – the race was held in my home town, which is named for it's hilly nature.  But because I'm an overweight (but down 3 pounds – 9 more to go!) non-conditioned, undisciplined runner the hills pretty much finished off any willpower that I had left after the emotional start to the race.  My goal was to not walk for at least the first 2 miles, and I only made it to the 1 mile marker before taking a break.  The entire course was extremely hilly and it crushed my weak little runner's spirit.  I did lots of walk/jog/walk/jogging.  Probably the most walking I've done in a race so far.
Oh, and to add insult to the hilly injury, they had Powerade instead of water at the water station!  Blast!!  So I didn't even get a refreshing recharge at the halfway point.  It just seemed like everything was stacked against me today, and I ended up walking almost the entire last half mile of the race.  There was a baby rattle snake crossing the middle of the road toward the end, and I'm pretty sure I saw him look back over his scaly little body and laugh at me.  Whatever.  I finished in 38:12 or so.  Yeah.  Bad.  Here's my stats to date:
8/28 – 5k in 39:52
9/18 – 5k in 35:56
10/2 – 5k in 38:12
So that's my running story.  What have you guys been up to this weekend?
Wimpily,
Becki