Hey guys!
Remember when I said I was gonna do a review and a giveaway?  Well, the time has come!  I ordered my Hamilton Beach Dispensing Blender from CSN on Friday, November 5.  I opted for good ol' regular shipping, and it got here on Tuesday, November 9.  Pretty snappy, eh?
It was well packaged, and arrived in perfect shape.  I meant to take a lot of pictures of the blender and all the smoothies that I have been making in the past few weeks, but it just never happened.  It's getting dark earlier, so photos at night are a pain and breakfast time in my house is CHAOS!  Suffice it to say, this blender is everything that it claims to be – but most especially it is incredibly easy to use and low maintenance – everything (except the base, duh) is dishwasher safe, so once I made my blended delight, I just tossed everything in the dishwasher and got on with my life.  Very convenient, especially with my wild mornings!
The Durablend jar is awesome – the bottom is kind of wavy shaped, so it keeps everything moving from top to bottom without user assistance.  Awesome!!  And it definitely handles ice (and all manner of frozen fruit) like a champ – I have used it almost daily with huge ice cubes and it's consistently reduced them to smoothie-smoothness without any hiccups or complaints.
And if you like to make frozen concoctions for entertaining friends and family, well!  This is the Hamilton Beach Dispensing Blender, which has a very cool dispensing spout on the side, so if you make a huge batch of Frozen Goodness, you can just line up your glasses and use the spout to fill 'em up instead of picking up the whole blender jar and trying to pour from the top, which can be pretty messy…at least if you're anything like me.
And if you happen to have a wee one who is anything like my Lauren, the box is pretty awesome, too: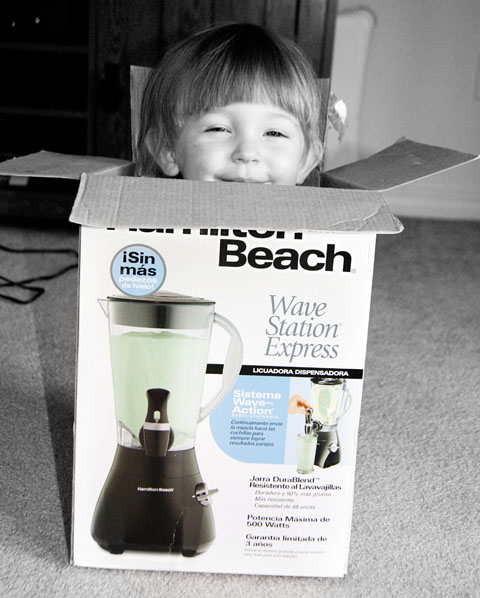 So, you wanna win a blender?  Good, cause I love mine so much that I want you to have one, too!  All you have to do to be entered to win is leave me a comment and tell me what's the first thing you'd make (or do with) your blender!  Would you mix up a milkshake?  Make your own baby food?  Wrap it up and give it away for Christmas?  Let me know, and I'll pick a random winner on Sunday, December 5!
Good luck!
Becki