Hey guys – remember me???
Sorry about the absence, but I needed a blogging break!  I hope you all had a wonderful Christmas – I know I sure did.  Hubs pulled out all the stops this year and absolutely spoiled me rotten.  Don't believe me? 
Say hello to my little friend:
It's OK if you're jealous.  I totally understand. 😉  Her name is Martha.  She's a classy little workhorse, this one!
The sad news is that my first resolution:
1) BEGIN ATKINS JANUARY 3, DO NOT PASS GO, DO NOT COLLECT $200 UNTIL I AM -15 POUNDS
is going to keep me from getting properly acquainted with Martha until further notice.  That's OK, I know that we are going to have a long and happy relationship despite the slow start.
Also, please note the beautiful cream-colored walls in the background – that was my other MAJOR gift from Dave: he spent his Christmas vacation painting the entire living area of our house!  No more white walls – two years later, and I finally feel like we're really moved into our HOME as permanent residents.  Hooray!!
I did do some baking and candy making over the holidays – in fact I made THREE ruffle "ornament" cakes ala my favorite baker: Amanda at I Am Baker.  Look at her amazing cake here!  Ruffle cakes are fun and easy to decorate – I highly recommend you give it a try.  I also highly recommend peppermint buttercream frosting – it is so, SO good.  Especially with a rich chocolate cake!  My cakes were very tasty, and the outsides were cute….but my ornaments?  Not so much.  I'm pretty sure that the problem was too much frosting-to-cake.  I'll definitely be giving it a try again next year!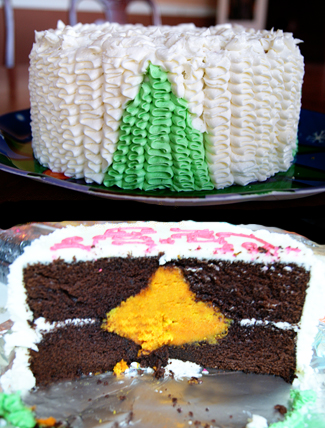 I was going for a bell in the center of this one.  It kind of worked, right?  RIGHT??
I also made some Christmas eve mice, of course: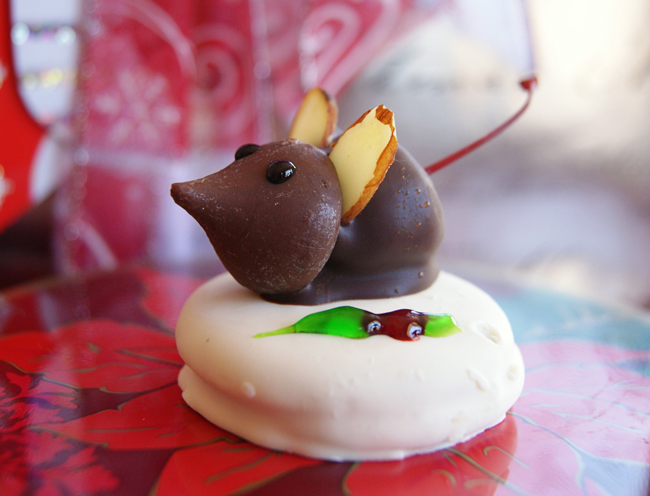 as well as peppermint bark, black walnut fudge, and roughly a million snowball cookies.  It was tasty times around here!
So what about you guys?  Any amazing Christmas gifts/stories?  Wild resolutions?  Random shout-outs?
Happy New Year!!!!
Becki