Oh, Bloggy Buddies.
I went totally crazy planning and crafting for my friend Abby's baby shower, and I had *so* much fun doing it!  Seriously, could someone go ahead and pay me to do paper and sugar crafts full time??  That would be lovely, thanks!
My inspiration came from Martha Stewart.  Check out her book-themed baby shower here. This is Abby's second baby, but I still wanted her shower to be a little more fun than the usual gift-card shower and who doesn't love reading?!
I printed off the absolutely adorable and clever invitations that Martha and Rifle Paper Co. provide here, and just added some ribbon to the book mark date saver and made my own envelopes.  Super pretty paper stuff, right??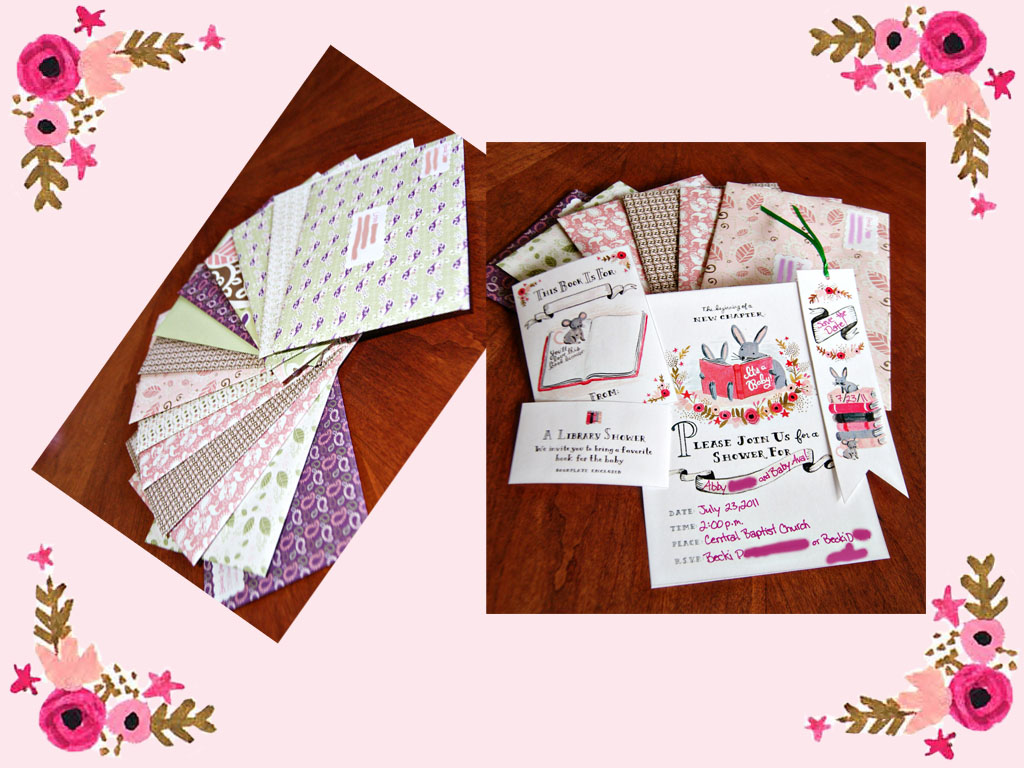 Then I went a little overboard and modified Mother Goose rhymes for each of the dishes that came.  Example: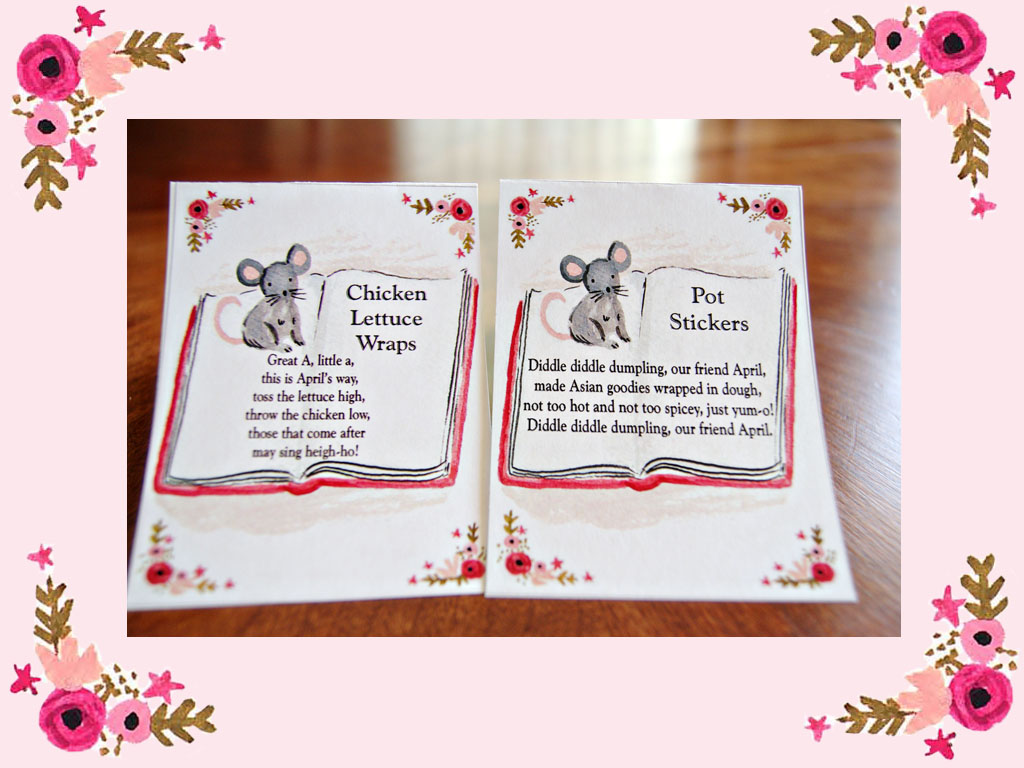 And you know I made it my personal mission to ensure that this baby shower had more than it's fair share of sugary sweets, so I made Oreo Truffle pops…..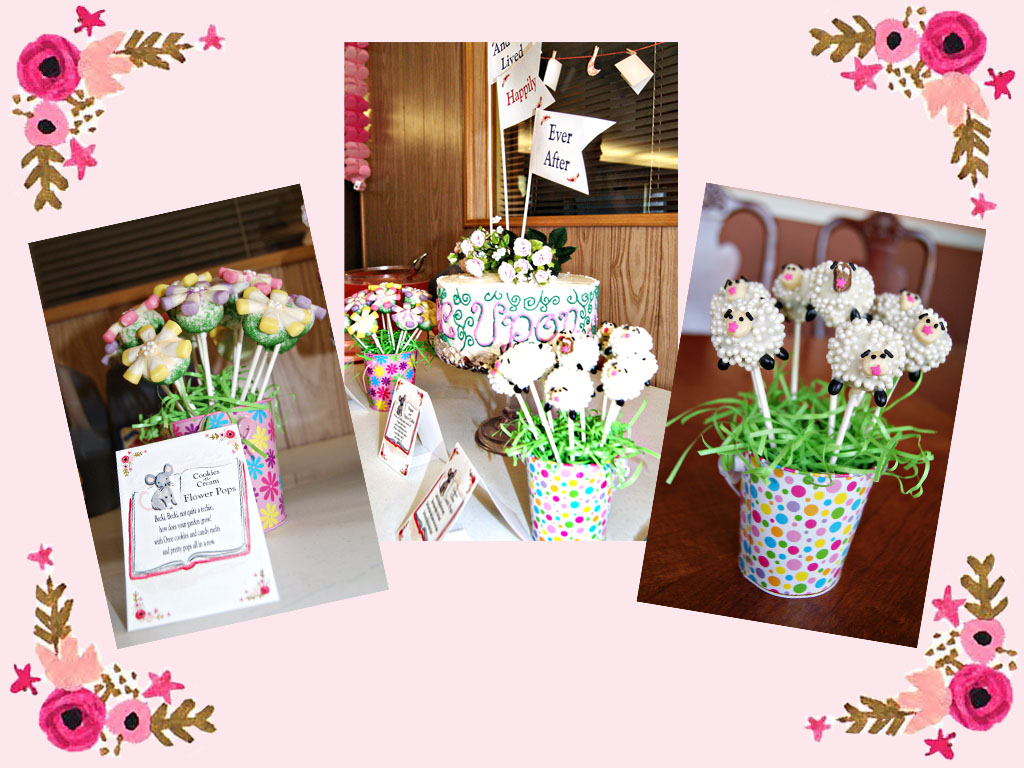 And I used Martha's idea and recipe for a Sugar and Spice cake with blackberry mascarpone filling, but I also made a batch of Swiss meringue buttercream to decorate the outside of the cake.  This was my second time working with SMB and I have to tell you, thanks to Sweetapolita's awesome post, I am now a believer.  I (incorrectly) assumed that my butter had to be room temperature because in baking that's the norm, so my frosting was really runny when I first made it.  But Sweetapolita's post included the helpful hint that if the butter is not cold enough, this will happen, and all you need to do is stick your frosting in the fridge for a while and then beat again.  Worked like a charm!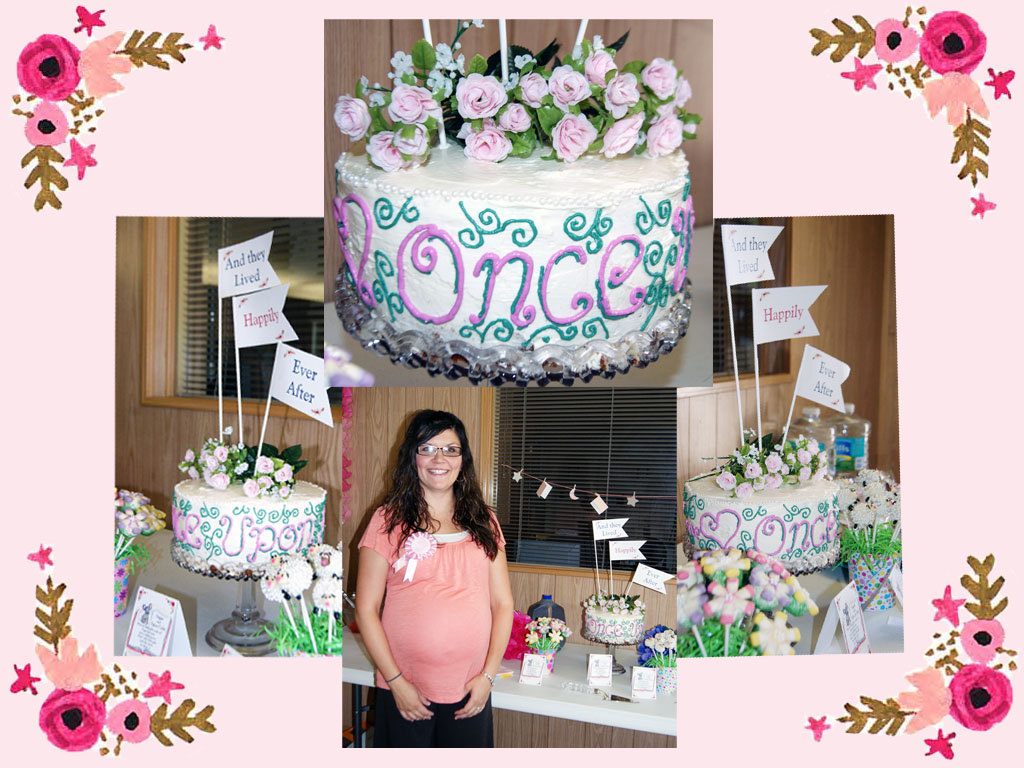 Yep, SMB is a dream for decorating.  It is so much smoother than regular buttercream, and it also pipes beautifully.  I'm a believer!  I also made great strides with my sugar cookie skillz.  In my searching for the perfect sugar cookie recipe, I stumbled across Bridget's (aka Bake at 350 aka The Sugar Cookie Queen) recipe for brown sugar and spice cookies.  Perfect!  And after making friends with royal icing, I had little lamb cookie favors: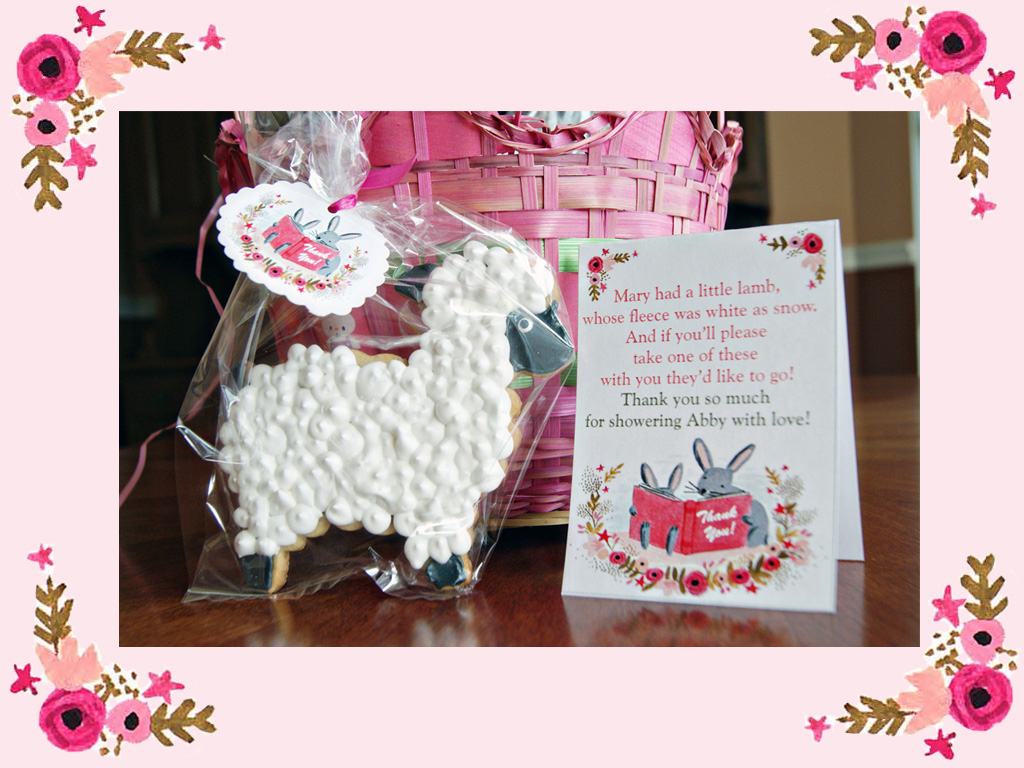 As you can see, with the magic of Photoshop, I got a lot of mileage out of the illustrations that Rifle Paper Co. provided in the free invite package they provided on Martha Stewart's site.  All of their work is totally beautiful and unique, and it was awesome of them to provide such a fancy freebie, so go check out their site, would ya?
After I got all the sugary goodness squared away, my next mission was to come up with some unique games for this shower.  Call me a killjoy, but I'm a little burnt out on the "guess what's in the diaper" and "name that baby food!" games.  So our first game and ice breaker was a modified version of "Never Have I Ever."  The long and the short of it was that for every "never have I.." statement that I read that the attendees HAD done, they had to take a coin and put it in the piggy bank at the front of the room.  This was fun because it became another gift for Baby Ava (her first piggy bank, with funds already started!) and it was a fun way for everybody to get to know one another.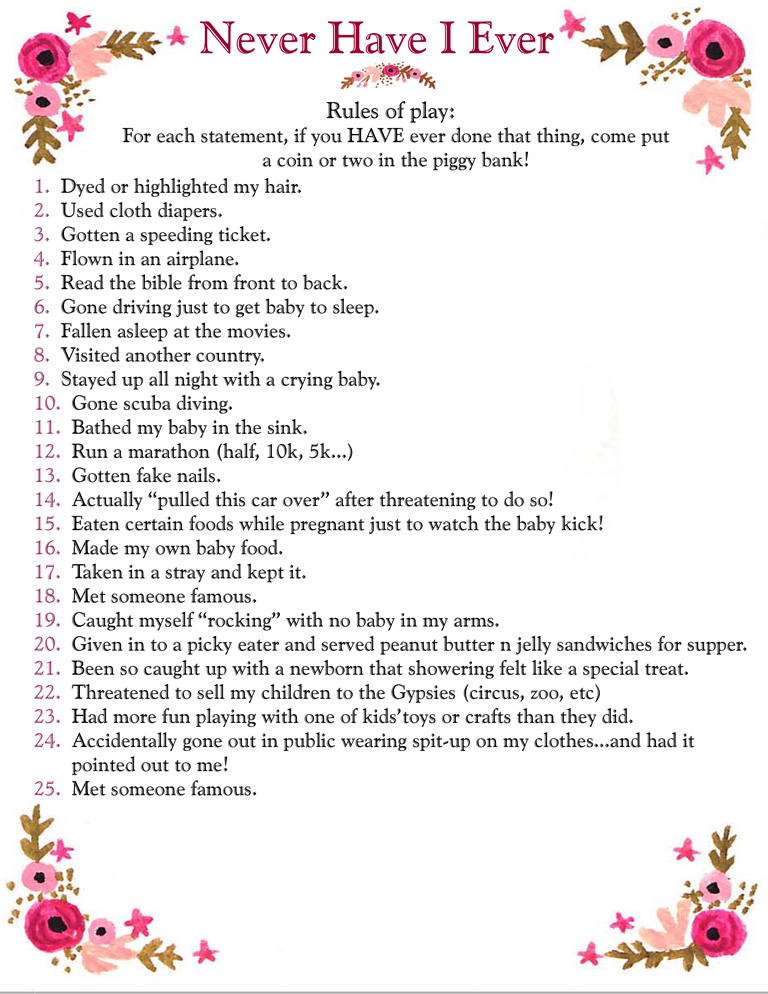 We also played Baby Scattergories, which was a lot harder than I had anticipated!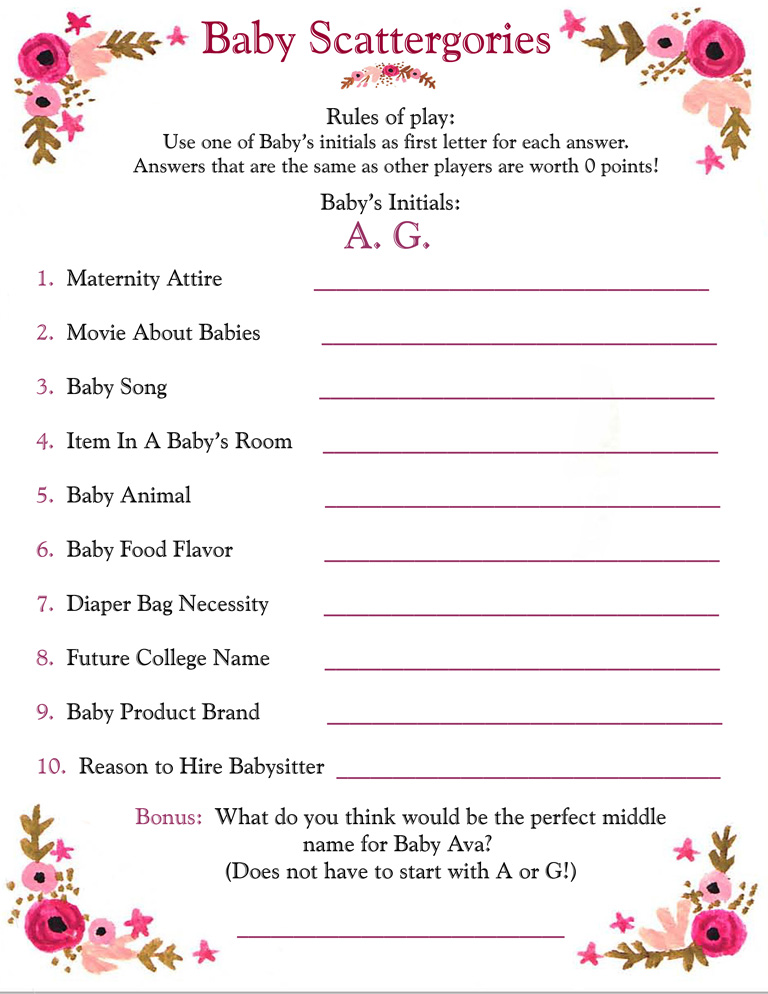 The final "game" was story-telling.  Everybody shared their funniest/weirdest/grossest baby story and whichever Abby chose as her favorite got the prize.  This one got a lot of laughs – when it comes to kids, we all have PLENTY of applicable stories!
I didn't get any pictures of it, but I also made a "Giving Tree" (love ya, Shel Silverstein!) as a centerpiece.   Basically a pretty branch, and all around it were miniature blank books with ribbon loops – guests wrote advice or encouragement for Abby and family and then hung their books on the tree.  Fun stuff, eh?!
I seriously had so much fun doing all of this.  I would never want to be an "event planner" but I adore all the little details.  I also adore my friend Abby, who is the gentlest soul I know.  I have never seen or heard her having a bad day, and I've known her for a couple of years now!  She's always smiling and encouraging and I just love her. 🙂
Can't wait to meet baby Ava!
Becki