My sweet MIL Susan's birthday was Tuesday, and while I'm not sure how old she is, I'm guessing only about 6 years older than me.  Just look at her!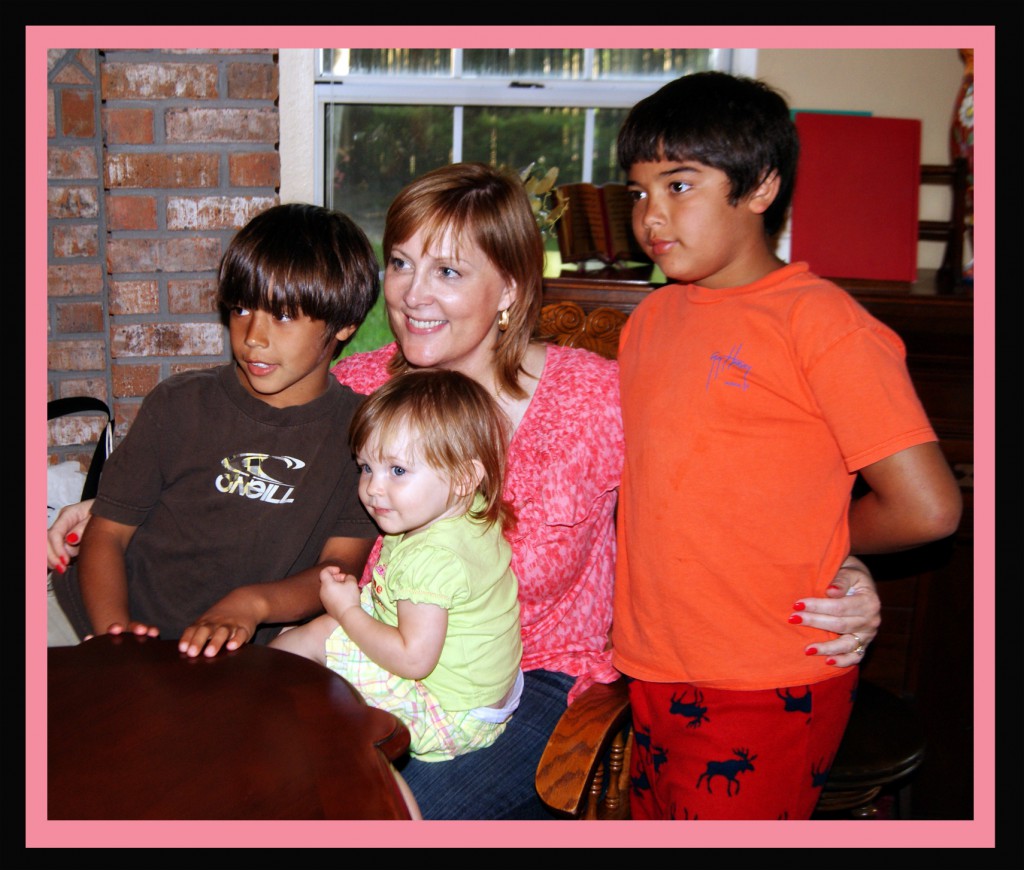 Pretty amazing, huh?  I've already told ya she's the best mother-in-law a girl could ask for, but she's ALSO the best Grandma (or Mamaw, or Mammy…depending which Grandbaby you ask!)  We are all so blessed to have her in our lives.  For.Real.

Anyway, I jumped on the opportunity to make her birthday cake, and when I asked her what she liked she told me "pretty much anything."  Then I stumbled onto this Triple Decker Cheesecake from Dozen Flours, and when Susan confirmed that "anything" most definitely included cheesecake, it was game on!
I did quite a bit of tweaking to Dozen Flours' recipe, so I'll go ahead and break mine down for ya:
Chocolate Caramel Toffee Triple Decker Cheesecake
Oreo Crust:
-Butter for pan
-2 cups Oreo crumbs crushed in a food processor
-6 tablespoons (3/4 stick) unsalted butter, melted
Filling:
-2 pounds full-fat cream cheese, softened 3 to 4 hours at room temperature
-1 1/3 cups sugar
-2 tablespoons all-purpose flour
-4 large eggs, room temperature
-2 teaspoons pure vanilla bean paste or extract
-1/4 cup caramel ice cream topping
-2/3 cup (2, 1.4 ounce bars) crushed toffee, such as Skor or Heath Bars
-6 ounces good quality semisweet chocolate (I used Lindt)
Prepare the crust:
Preheat the oven to 325F. Butter 9-inch springform pan with sides at least 2 3/4 inches high. Mix cookie crumbs and melted butter, combining well. Press crumb mixture evenly over bottom and 1 inch up side of pan. Wrap outside of pan with 1 large piece of heavy foil, making a water tight seal.
Bake for 6 minutes. Set aside and cool completely.
Water Bath:
Before you start the cheesecake batter, you should get everything ready for the water bath. You'll need a roasting pan that's big enough to hold the spring form pan in both width and height.
While you're preparing the cheesecake, boil a large kettle or pot full of water for water bath, and also melt your semisweet chocolate and set aside to cool while you're making the cheesecake batter.
Prepare filling:
In a standing mixer, cream the cream cheese in large bowl on low speed until smooth for 1 minute. Add sugar and mix until smooth, about 2 minutes. Scape bowl and beater.
Mix in flour  just until the flour disappears. Add eggs, 2 at time, mixing until batter is smooth and no traces of egg can be seen, about 1 minute. Mix in vanilla and cream for about 30 seconds.
Get 2 medium sized bowls, preferably ones that have a pouring spout. Pour 2 cups batter into each bowl. Stir caramel topping in one of the medium bowls and combine well, until the mixture is an even color. Set aside. Mix the crushed toffee into batter in second medium bowl, mix well, and set aside.
Mix melted chocolate into the batter that's left in the mixing bowl, stirring just until chocolate is incorporated and no white batter shows. Set aside.
Assembly:
Pour caramel batter over prepared crust, making sure that it is even and reaching all the sides.
Place cheesecake in large baking pan with at least 2-inch high sides and place in oven. Pour hot water into large pan to reach 1-inch up sides of springform pan. Bake 30 minutes.  I thought I would try to be fancy and add swirls of caramel, but you couldn't tell when the cheesecake was cut.  So I'll skip that step.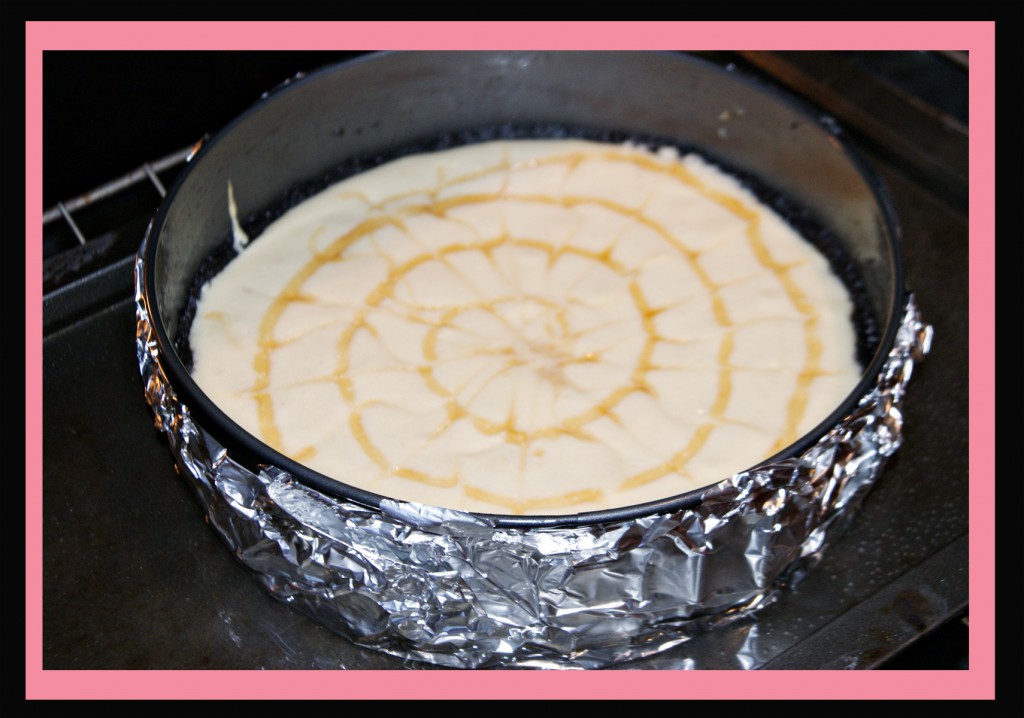 Carefully slide oven rack out several inches. Make sure that the caramel layer is relatively stable, as it is going to have to support having the next layer poured over it.  I only baked my caramel layer for 20 minutes and then dumped the chocolate layer on, making a big chocolate "dent" in the middle of my cheesecake.  Not so pretty, but it still tasted amazing!  So, once you are sure the caramel layer is sturdy enough, pour reserved chocolate  batter all around inside edge of pan, making sure batter flows evenly to cover top of cake. Bake 20-30 minutes, or until stable enough to support the next layer.
Pour reserved toffee batter all around inside edge of pan, making sure the batter flows evenly to cover top of cake. Bake approximately 60 minutes. You'll know it's done when you can give the cheesecake a gentle shake and top doesn't move and looks firm.  Make sure you check the water level when you add each layer, and while the final thing is baking.  If the water gets low, just pour more in.
Very carefully, remove everything from the oven (roasting pan, water, and cheesecake). Note: If you have a bad back, ask for help because it's heavy and the water is going to be near boiling. Cool cheesecake in water bath 1 hour on a heat proof surface, covered loosely with paper towel.
Carefully remove cheesecake from water bath. Remove paper towel and cool 1 hour more on a wire rack. Cheesecake should feel cool to touch. Gently run a thin-bladed knife around the edge of the cheesecake. Unhinge the latch on the spring form pan and gently remove the ring. Cover with plastic wrap and refrigerate at least 6 hours or overnight.  Be sure to admire your pretty layers!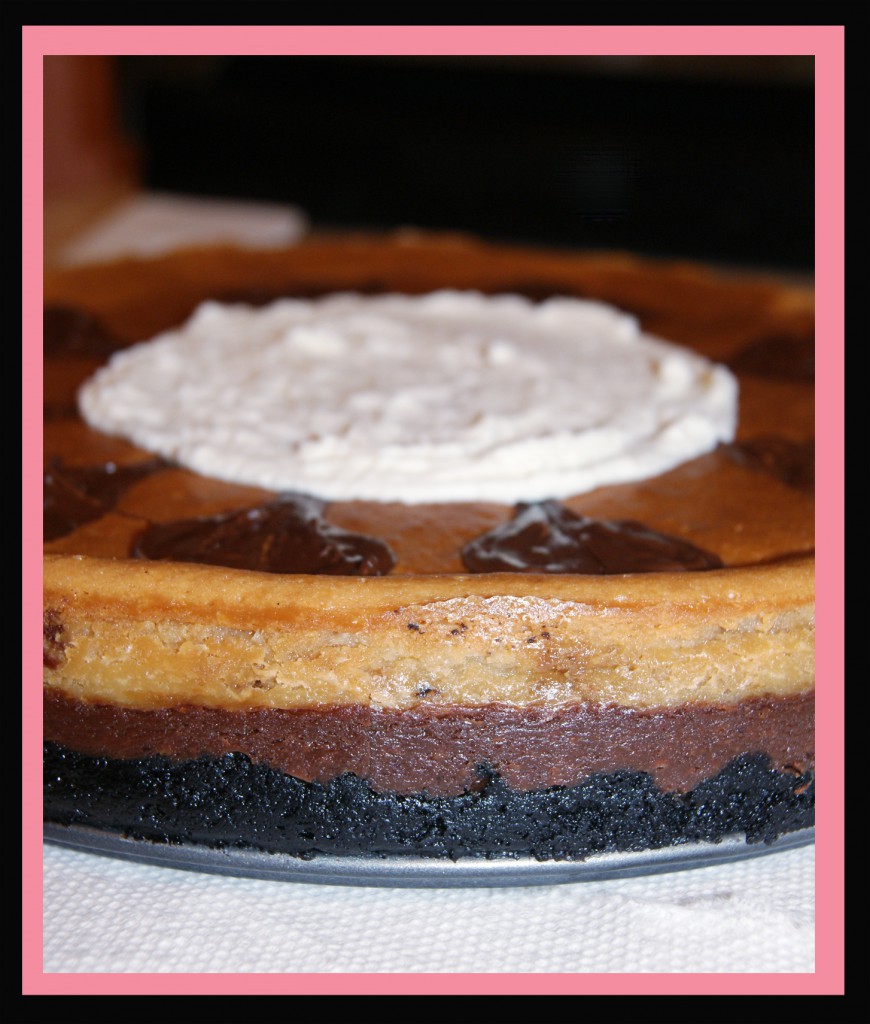 Serve the cake with whipped cream and chocolate shavings, plain, or with anything else that floats your boat!  I made a quick ganache (chocolate chips + boiling heavy cream = MmMmMm) and spread it around the outside, and also used it to create hearts on the top and write my happy birthday message.  I also made some fresh whipped cream and piped it around the top edge, and used it for the backdrop for my happy birthday message.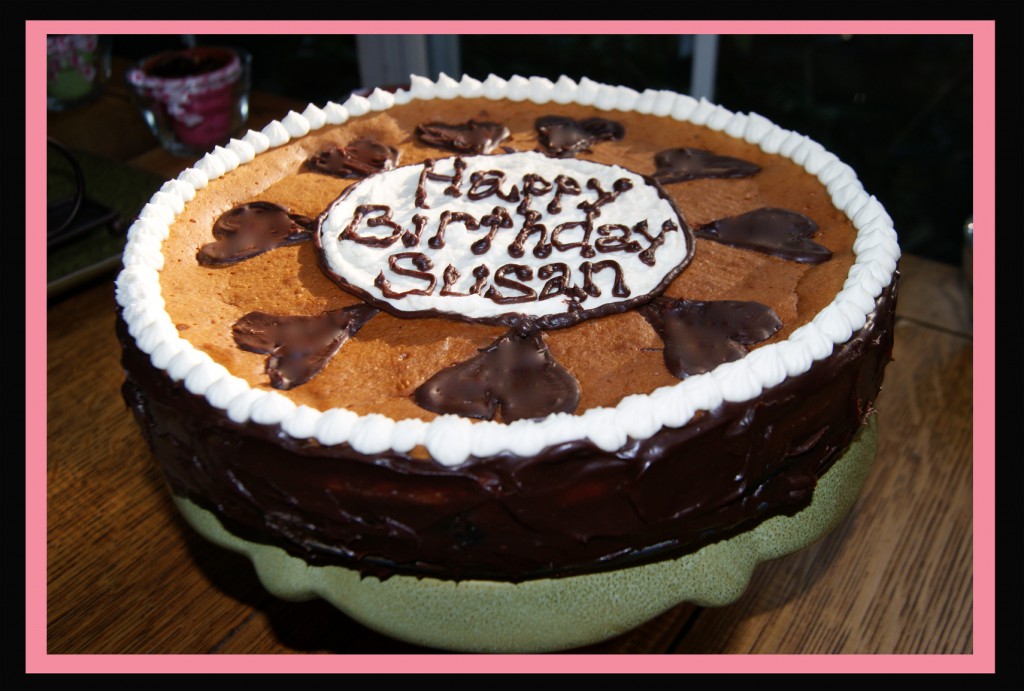 When slicing the cake, be sure to clean the knife after each cut. This will ensure prettier slices.  My slices were not so pretty – the family was pretty rabid to get into this thing by the time it was served.  So, sorry for the less-than-lovely pictures!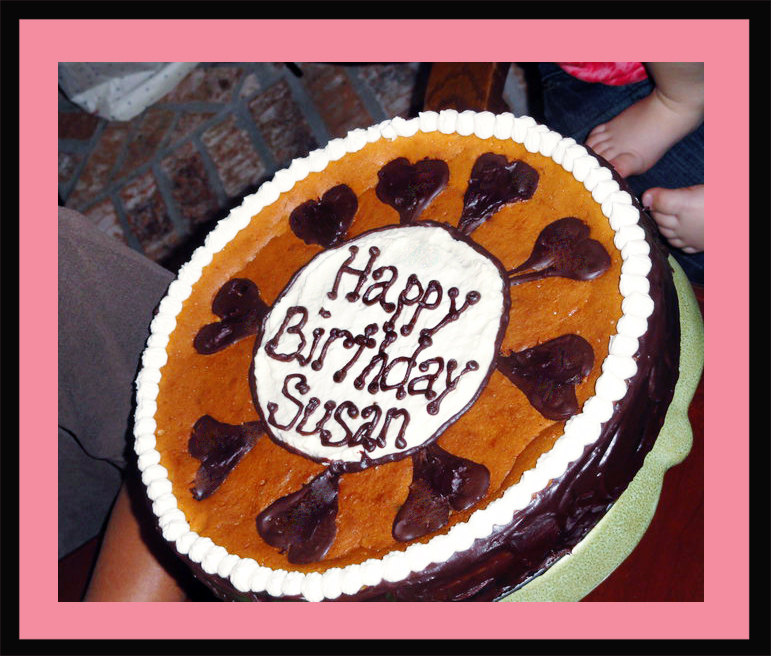 Leftover cheesecake can be covered and refrigerated up to 1 week – but it won't last that long.  As rich and decadent as this bad boy is, it was all gone by the next afternoon.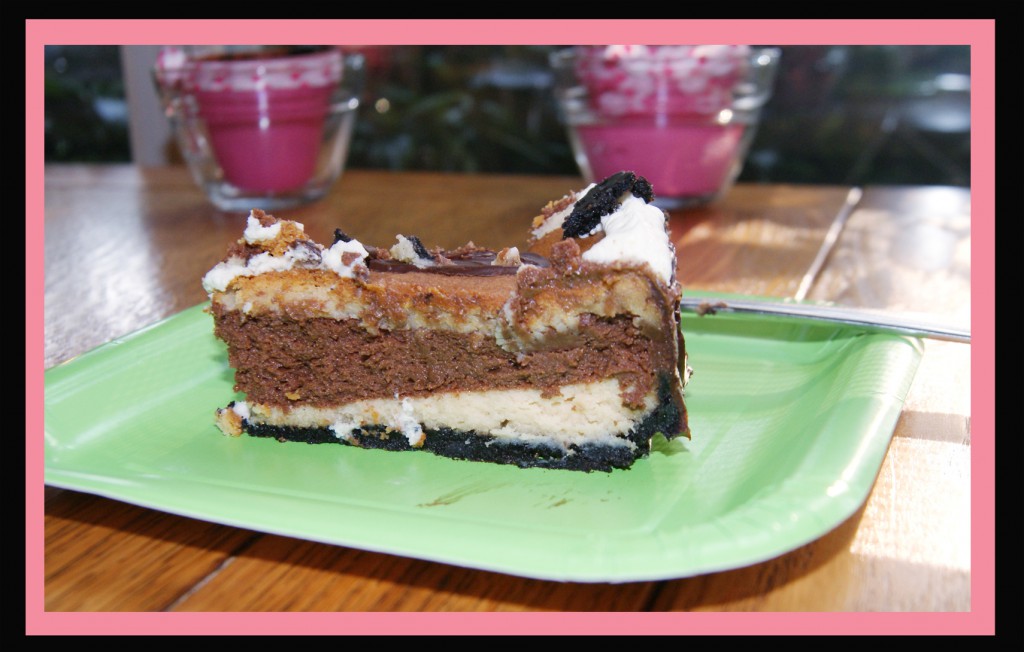 Everyone loved this cheesecake, even my nephew Dalton who had declared that he did not like cake OR cheesecake.  But he tried some of Susan's and decided he needed his own slice.  Yeah, it's that good. And you can certainly change the flavors up to suit your own tastes.  Tell me – what combination would YOU use?
Happy birthday, Susan!!!!
Becki