Remember Marshall? Well, his "baby" girl recently turned 16, and I was asked to make her birthday cake.  Yippee!!  The birthday girl (T) really wanted a Spiderman cake, but Momma (Kelley) vetoed that idea .  Instead, we decided to follow birthday girl's bedroom decor theme – Paris!  I had a little sit-down with T and her Momma, and they showed me the decorations for the party and basically left everything up to me about the cake.  They were willing to go with a plain old sheet cake, even!  As-if!
T did make it very clear that she HATES PINK, so no pink.  She loves purple and animal print and she wanted "that frosting that gets kind of crispy on the outside…" so of course, I went with good old-fashioned buttercream.
Let me go off on a tangent for a minute and say that I am all about some fancy, flavored frostings these days…but my Mom used to make birthday cakes for us when we were little and she'd always use a different shaped Wilton cake pan, and decorate it with that "crispy" Wilton buttercream recipe, applied painstakingly with a star tip and the "dot" method.  I don't know what that method is actually called, but you know what I'm talking about, right?  Those lovingly decorated cakes with their crispy little spikes represent such precious, warm memories for me.  So long story short, when T described the icing she wanted, it immediately took me to that happy place.
Annnywho, once we decided on the Paris theme, I searched high and low for an Eiffel tower shaped cake pan, but it does not exist.  So I started searching Google images for "paris-themed cakes" and there was a tiered cake with a petal-shaped bottom that I totally fell in love with, and it just so happens that I already had a petal-shaped pan in my arsenal.  Yay!
This was my first time making a tiered cake, and I was pretty nervous about the whole "dowling" thing.  But I did much googling, and decided I could do it.  And I did!  And it worked!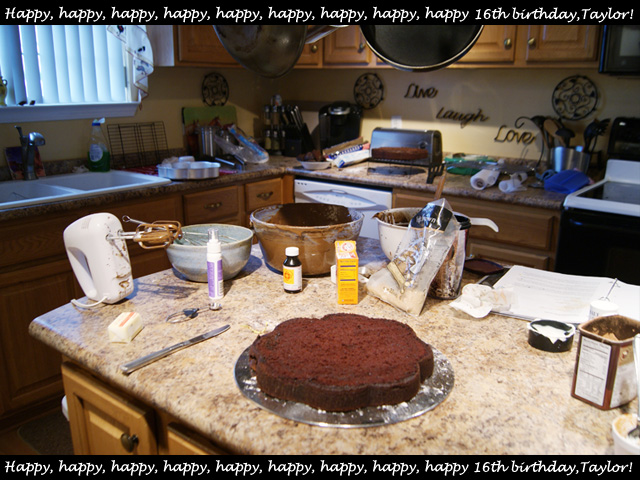 This looks like a big mess, right?  Wait til you see the pictures from when it was all said and done!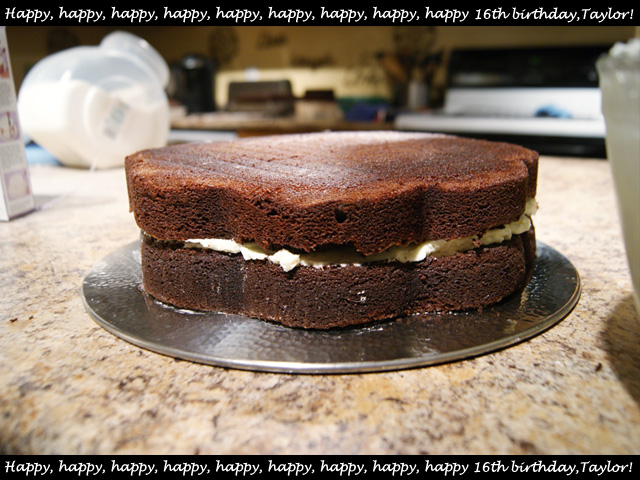 T requested my favorite mocha cake, with mascarpone filling.  I took it a small step further and did each tier with a different flavored mascarpone – the bottom was vanilla, the middle cocoa and the top caramel.  Don't ask me to pick a favorite, because I cannot!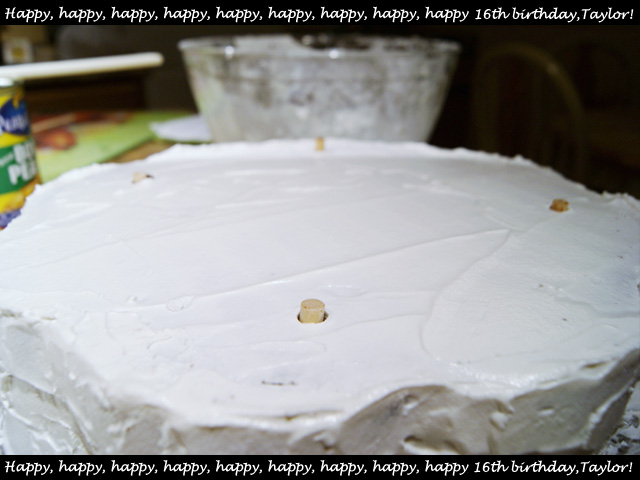 See?  I told you the dowels worked!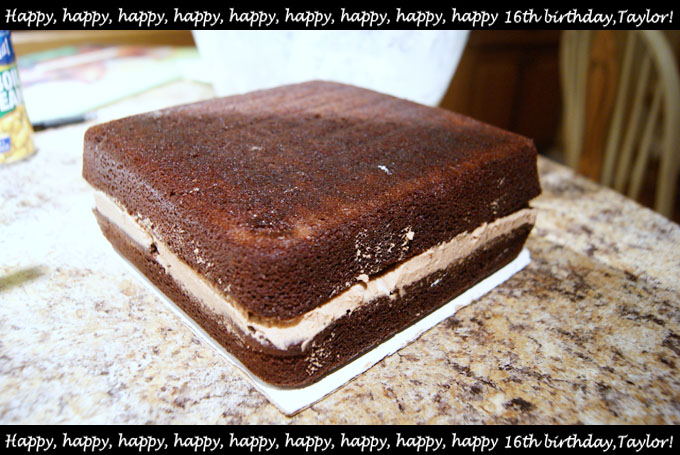 Then the middle tier rested on it's very close-fitting cake board, on top of the dowels.  Neat!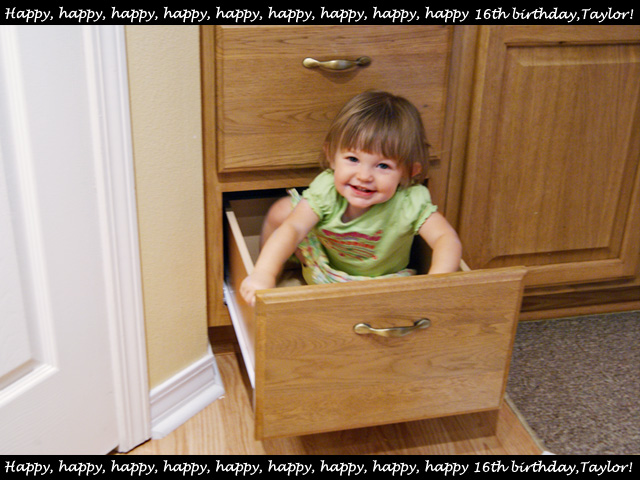 Another of Lauren's pastimes while Mommy's baking – empty drawers and then climb into/up them.  So cute.  So frustrating.
Starting to look like something good…..let's add some decorations!
And finally, after a very nerve-wracking car ride, I presented T with her cake: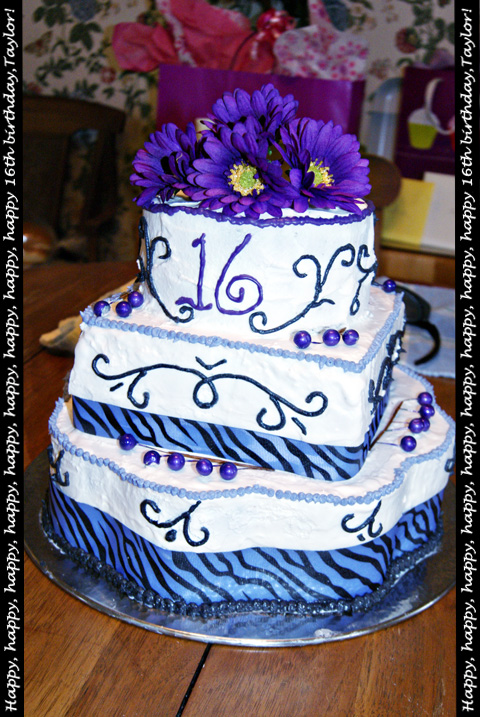 So I finished decorating the cake right before we had to dash out the door with it.  I have to say, watching it being deconstructed so soon after all my efforts was a bit tough on me.  I would have liked to stare at it for a good 24 hours or so.  Does that make me a little crazy?
OK, I thoroughly intend to put up more pics of the finished cake later, but I've been sitting on this post for over a month and I think it's time to just go ahead and publish it.   Right now our network attached storage is having technical difficulties, and I can't access my pictures.  So we'll run with this for now.
Thank you so much, Kelley and T for inviting me to be such a big part of your Sweet 16!
Happy birthday, T!!!
Becki