You might assume that because I have been very absent from the blogging lately that I just haven't had time to bake.   That's not exactly true.  I've been baking.  I just haven't been taking pictures of the baked goods.  My camera keeps swinging toward a certain little muffin that didn't come from the oven in my kitchen…
…Err…
What?
See?  You just got lost in that sweet little face, didn't you?  Let's do it again!
So, the first thing I made and did not share with you guys were some star-shaped cake pops for my BFF's birthday.  She loves pineapple upside down cake, so I made a Pineapple Supreme cake from a box mix (I know, the horror!  Whatever.  Look into those baby eyes again!) and then crumbled it up and blended it with some pineapple and cherry juices.  Used a cookie cutter to make the star shapes, popped 'em on sticks and decorated the heck out of them.  Voila!
Goodness, that's bright.  Sorry if I just made you go cross-eyed.
Let me make up for it by directing you to these Chocolate Chip Meltaway Cookies from Cookies and Cups: go here.  These cookies are SO GOOD!  In fact, I ate them all.  Granted, it was over the course of a few days, but I.Ate.Them.ALL!
Side note: I have no idea why these last 12 "pregnancy pounds" haven't magically dropped off.  Strange.
Anyway, these cookies – you really want to make them.  And they're even softer and better the next day.  So don't be like me – go ahead and package 'em up and share!
And I knew I was meant to make Joy The Baker's Blueberry Black and White Cookies, because just the day before she posted the recipe, my Dad brought me a gallon of fresh blueberries from his farm.  Coincidence?  I think not!  Oh, but look, I did make sure to take this picture of the cookie making process:
so you guys could see how innovative I am.  See what I did there?  That's right, I substituted the blueberries that Joy calls for in the batter, for chocolate chips.
OK, so maybe I don't get the Creative Baker Of The Year Award just yet, but these cookies?  Awesome.  I made them twice, even!  They're incredibly soft – more like little cookie-shaped cakes, and the blueberry and chocolate glazes were completely made for eachother.  Everybody loved them!  Thanks for the awesome recipe, Joy!
In fact, I loved these cookies so much that I translated them into breakfast ala Black N Blue pancakes, which the awesome Katie O. of You Are What You Eat Or Reheat featured here.  What's that?  Katie's food photos are 110% better than mine?
….
That was the sound of me not arguing.  You rock, Katie!
But hey, I totally have cute kids: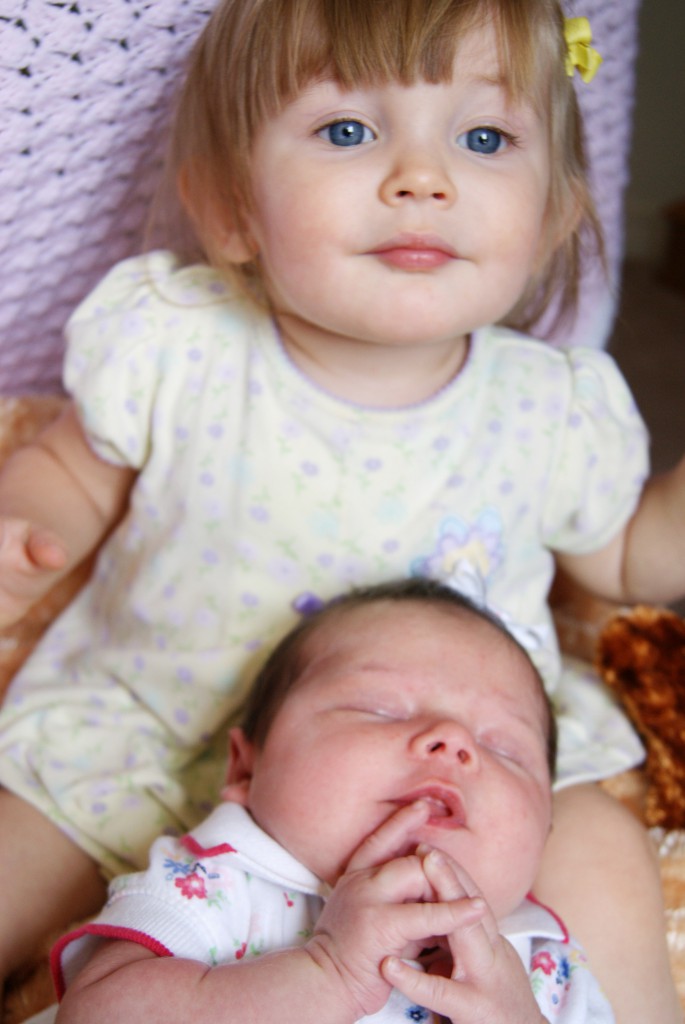 who I really need to attend to now, so I'll save my review of The Noshery's Magic Cupcakes for next time.  Preview:  they're magical.  And I renamed them as such.
Happily,
Becki