Howdy Bloggy Buddies!
I hope that October was as good to you as it was to me!
I got lots going on here, so be patient and keep up…cause there just might be a treat for you at the end!
First up, of course I made some halloween-y cake pops!  I took them to my neice's cookie-decorating boo-fest, where they were a big hit!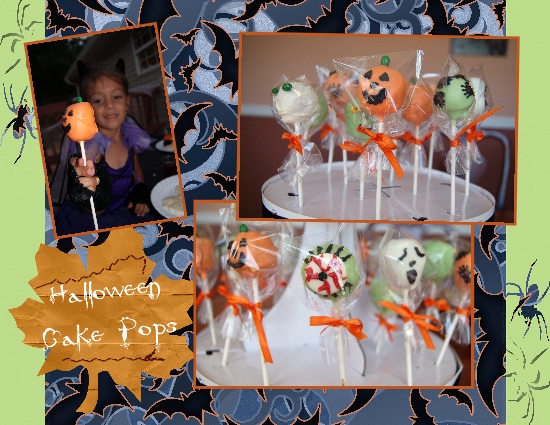 We made our annual trek out to the corn maze and pumpkin patch, but we went a week too early.  80 degree weather really isn't conducive to "fun" fall activities.  Ah well, the girls had fun – it's us grown ups that are wimps!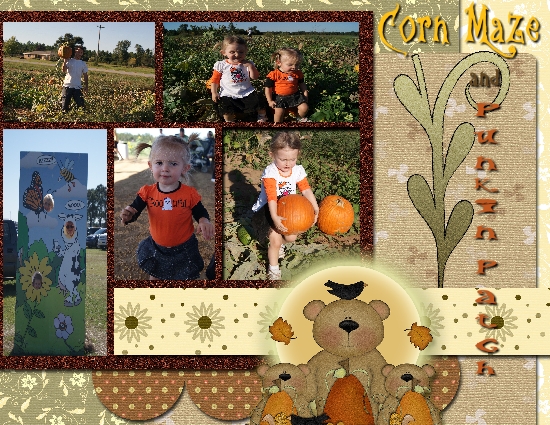 For the big day itself, Dave the pumpkin-carver extraordinaire made a big "HAPPY!" pumpkin per Lauren's request and we got the girls dressed up as garden gnomes!  I also spent way too much time being crafty and made tags and bagged up the candy for our trick-or-treaters.  We had monster eyes, shrunken heads, nifty gnome hats, jolly jack-o-lanterns and spooky sweets.  It was super cute, if I do say so myself…and it also helped ration the candy.  Last year we gave each trick-or-treater a handful of candy and we ran out in about 45 minutes and had to dash out to  buy more candy!  Our neighborhood is the place to be, if you're a trick-or-treater!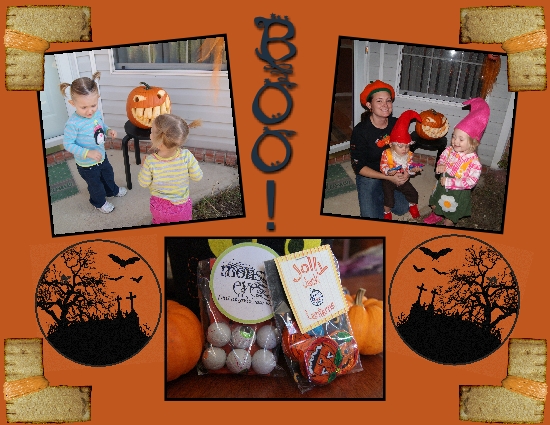 Soo…we've been having some good times.  So, did you notice my nifty little picture displays?  Of course you did, because they're AWESOME!
Last week I was approached by My Memories Suite to review their product and offer it to my Bloggy Buddies.  As you can see, I happily agreed!  You guys probably know by now that I love my Photoshop, but I have to say that this program does a great job of marrying the endless possibilities of Photoshop with the ease of a program designed specifically for photo layouts.  It's a powerful tool, my friends!  As you can see from the photos above, the options are endless (and adorable!).  The first and last photo layouts I created by combining bits and pieces myself.  The middle, most professional-looking layout was created using one of their showcase-ready templates.  Pretty spiffy, no?
As you can see, while it IS marketed as a digital scrapbooking software program, you can use it for so much more than just digital photo albums; you can make greeting cards, videos, blog photo collages, and custom hard-copy photo album books.  I also understand that they are always looking for designers to create new kits to sell on their site!
There are plenty of free pages and kits available on their site too.  The scrapbook software comes preloaded with lots of templates, papers, textures, embellishments, etc.  You could do so much with the program and never buy a single extra item, though you will be impressed with the items for sale and if you're cheap thrifty like me, there's even a dollar store section.  Hooray!
So….you want this software, right?  Visit My Memories and leave me a comment letting me know which scrapbooking kit is your favorite!  For one additional entry, tweet about the giveaway: " @beckidbaker is giving away scrapbooking software! http://www.beckibakes.com/?p=1798 " and leave a comment letting me know you did so.  I'll pick a random winner next Monday!
Happy Scrapbooking!
-Becki
P.S. – This post is linked to Works for me Wednesay at We are THAT Family.
UPDATE:
Random Sequence Generator
Here is your sequence:
3
2
1
Timestamp: 2011-11-22 20:08:56 UTC